February 26, 2021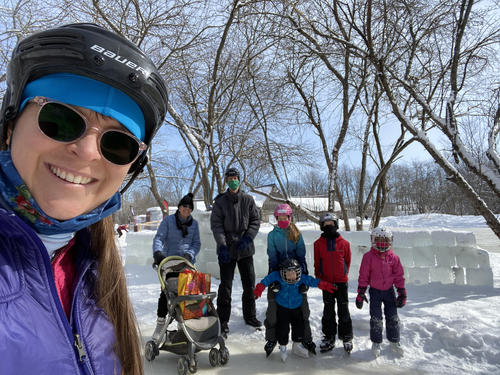 Lac des loups is out of the question this year because it requires interprovincial travel which is "not recommended" and technically brings a 14-day quarantine with it upon re-entry to Ontario (though this is widely ignored). So with the closure of the canal we decided to give River Oak another chance.
Temperatures were rising and sun shining brightly so we pulled the kids out of school, picked up Grandma Margaret and off we went!
The ice quality was better than expected, at least at first. By the time we left there were many places that were a little on the treacherous side due to the softening of the ice. Matthew went down the big hill once but by the time they looped around ready to do it again "some bad skaters went down and fell and cuz they were adults they messed up the ice". Elizabeth went up and down about six more times. Brendan found the changes in elevation very disconcerting but by the end he figured he was getting used to it. None of us adults braved the big hill given the conditions. I probably would have avoided the little hill too, but Amelia decided she needed someone to hold onto... Michael did quite a lot of skating as well. I was glad that Amelia is happy to skate by herself for the most part. My back is looking forward to the day that Michael can do the same!
Great fun was had by all and we will probably be back next year.
You might also like
- River Oak
(0.439443)
- Matthew's first skating class
(0.432432)
- Skating
(0.429885)
- A week of appointments
(0.42654)
- 12 Days of Christmas: New Year's Eve
(0.425301)
All