December 20, 2020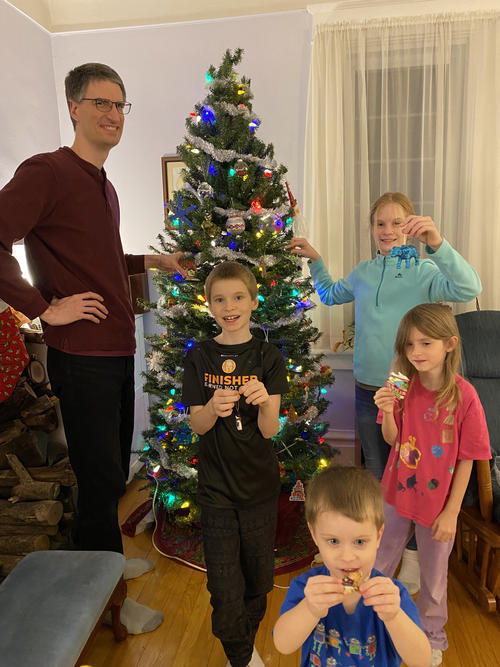 Advent went very quickly this year! Here are a few of the leftover photos from this year's advent. Our neighbour gave us an advent Christmas card so we opened one door every day. We also did some Jesse tree readings and put magnets on the fridge.
One highlight of our advent was the daily reading Grandma sent us featuring Zippy the Zebra. Here's one of the devotions she sent us on December 11th.
Hello family,
"What's in there?" asked Zippy Zebra. "Some peppercorns", said Grandma, " that's where I grind whole spices. I'm going to make a pepper sauce for our meat for supper tonight."
This mortar and pestle is probably the only kitchen tool most Angolan households use. They also use a really big one (with a pestle over 4 feet long) to crush grains, like corn, to make flour, and pound leaves to take out the tough fibres. You can't use some things unless they are crushed.
The wise king Solomon said that "Crush a fool in a mortar with a pestle along with crushed grain, yet his folly will not depart from him."
He said "Young people are prone to foolishness and fads; the cure comes through tough-minded discipline." Also "listen" to good advice and "accept correction". We sure don't want to be a fool do we – we won't be of any use to anybody.
So as king Solomon said, "Become wise, dear child, and make my heart glad! (Proverbs 27:11) The book of Proverbs is full of good advice!
I'm so glad that because Jesus came, he helps us to get rid of our foolishness, and become wise!
You might also like
- Advent
(0.349227)
- Garden update
(0.343612)
- Canal
(0.340449)
- Dance Camp
(0.33952)
- Amelia is three
(0.33722)
All