May 29, 2010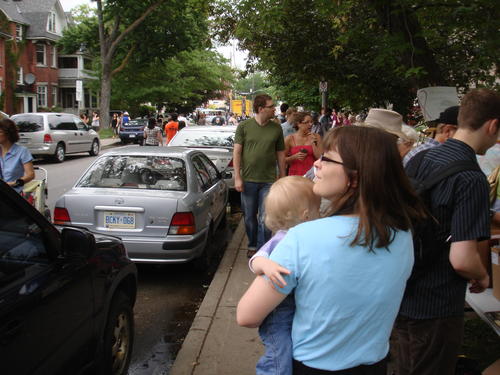 Today was the 24th annual Great Glebe Garage sale. I'm happy to report that more stuff left our house than arrived; in fact Brendan and I refrained from any purchases at all. Elizabeth would have liked to buy many, many things, mostly in the stuffed animal department. Eventually we decided to come home and let Elizabeth do some of the selling...
After the garage sale we spent a little bit of time working on the playhouse. We've finished three walls and put in the window. Elizabeth seems to approve so far.
1
On May 31, 2010 at 04:29 pm
Jess
said:
Nice t-shirt!
2
On May 31, 2010 at 10:47 pm
Mary
said:
I know! We need a better shot of it though. We get a lot of comments on it and Elizabeth likes it too (she approves of the colour).
3
On June 2, 2010 at 00:53 am
Marie Smith
said:
NICE play house!
4
On June 2, 2010 at 10:15 am
Grandma H.
said:
Nice sunglasses! For how long does she keep them on? What a cute shot!

(Also love the one where she can't believe her good fortune in having such an amazing play house!)
You might also like
- Great Glebe Garage Sale
(0.348511)
- Sand Delivery
(0.335953)
- Like riding a bike
(0.325806)
- Playstructure
(0.324421)
- Washing the Car
(0.314189)
All