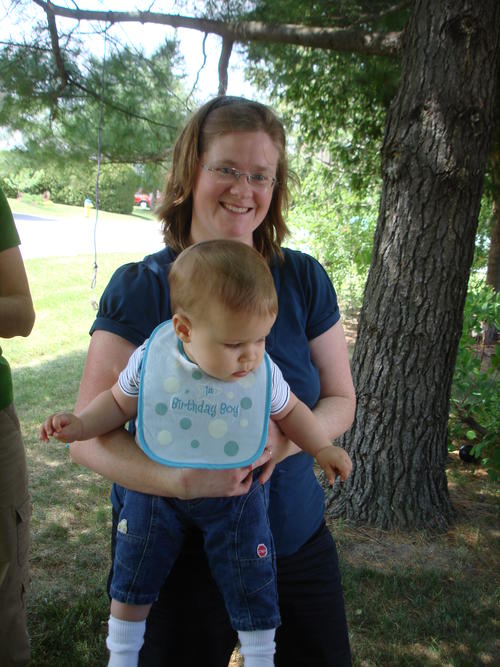 Elizabeth's friend Aidan turned one this weekend, and we were invited to celebrate with parents Dianne and David. He's changed a lot since we first met him at only a week old (He's the teeny tiny one at the end of the photo series)! He's even started to take his first steps!
Aidan had a pinata and really enjoyed seeing the other children whack at it. Every time someone made contact, he giggled and giggled and giggled. Elizabeth got play with the pinata stick, but we decided she was too little to actually try hitting the pinata. She did enjoy eating some of the chocolate that fell out, to no one's surprise. She also loved the noisemakers but although she blew vigorously she did so with mouth open. She didn't quite understand why she couldn't make it go.
She chased bubbles, "danced" with six year old Eric who was just fascinated with her and generally charmed her way around. She played very nicely with Aidan, passing plates back and forth for a long time. Then they both decided they'd like to play with Aidan's new play garden cart. Aidan was happy to share. Elizabeth was not. She has started putting her head down on the ground and wailing when she gets frustrated. After a few minutes in full meltdown mode, we decided it was time to go home for a nap.
1
On June 3, 2010 at 01:41 pm
Grandpa H
said:
Something tells me the "first dance" picture is going to appear later in life :)
2
On June 3, 2010 at 01:41 pm
Grandpa H
said:
Something tells me the "first dance" picture is going to appear later in life :)
3
On June 3, 2010 at 01:41 pm
Grandpa H
said:
Something tells me the "first dance" picture is going to appear later in life :)
4
On June 3, 2010 at 01:41 pm
Grandpa H
said:
Something tells me the "first dance" picture is going to appear later in life :)