April 1, 2021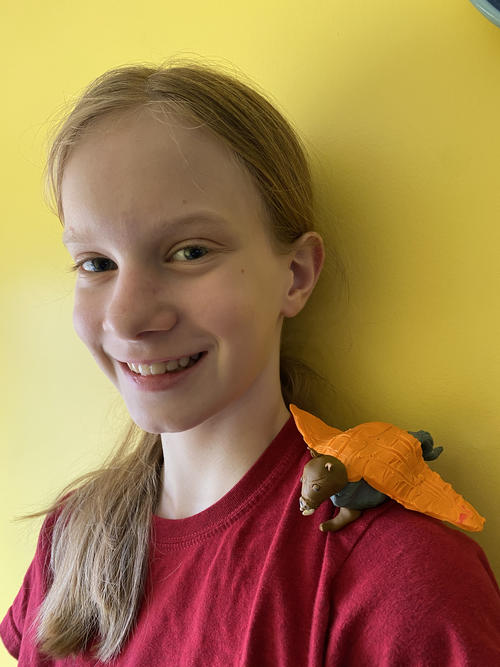 Amelia's class finally finished the circus unit and made their presentation. Mme Martine acted as the ringmaster, talking into a giant spoon. It was kind of what you'd expect from a kindergarten circus show with the instruction "do some kind of circus act" but quite cute once they got going. Amelia found many of her classmates quite hilarious. After the show they seemed to segue right into magic tricks. They had some kind of special presentation Thursday afternoon but Amelia didn't remember what it was about because she spent her time making paper dolls and clothes for her dolls instead of paying attention. She mostly just likes cutting paper into tiny pieces I think.
For art this week I pulled out the watercolours for the younger three. Michael really enjoyed himself and did two separate pictures over nearly an hour! Amelia painted a unicorn with mountains in the back and rain. She had a very elaborate story to go with the picture. Matthew also had to draw a picture of a bunny. He continued working on his times table assignment (48 pages!) but he's done all the tables he knows now so we're back to working through MathUSee. I think it's better to learn them systematically one at a time so we're just not going to submit that assignment for a while. Mostly he worked on writing, reading and french grammar this week.
Elizabeth's art class was working with clay so we pulled out the plasticine and she made herself a new pet! It's a warthog dragon and pretty adorable in my opinion. She worked hard at the beginning of the week and finished all of her asynchrone work on Tuesday, so she had more time to work on the 1000 piece puzzle she's doing. Elizabeth and Amelia worked together to make pork chops and twice-baked potatoes for supper one night, and Elizabeth also made pasta another night. We've started going for a run.
It wasn't nearly as nice weather most of the week but the animals are starting to wake up. One highlight was the dead squirrel in the middle of the sidewalk. Michael in particular was fascinated and wanted to walk down the street to "go see the dead squirrel" several times that day. He was put out to discover someone cleaned it up. I was much happier about the abundance of (live) bunnies, although there are so many I fear for my garden! Michael presented his robot and a whole crew of animal stuffies at Grandir Ensemble this week, much to the amusement of the staff.
You might also like
- Virtual School: Week 20
(0.446864)
- Homeschool wk june 15-18
(0.442529)
- Virtual School: Week 12
(0.440693)
- Virtual School: Week 26
(0.437934)
- Homeschool wk may 11-15
(0.429081)
All