April 3, 2021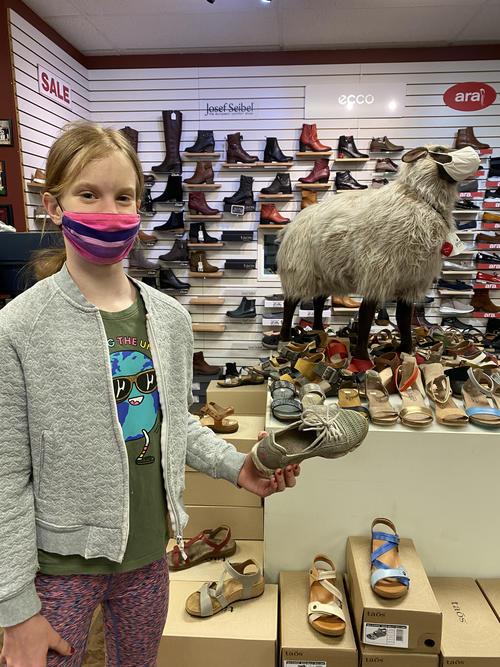 It's probably time for a pandemic life update.We're starting to see more signs encouraging mask use even outdoors, and more people are using masks outdoors when getting together with others.
With the nice weather, the neighbour kids are more often outside at the same time as our kids. We are much more nervous about letting our kids play with other kids that go to in person school. (We've noticed that kids who go to in person school are much worse at distancing.) Nothing much has changed at school, so kids there are extremely likely to pass covid around if any of the families in the class have covid. With daily cases of 240, a high rate displayed in the Ottawa wastewater, a positivity rate well over 5% and a persistently high "unknown source of covid" the odds of school transmission continue to increase. The government continues to insist schools do not transmit covid, apparently based on poor models, so haven't implemented any measures of substance to prevent this. In fact, it was widely speculated that the reason they moved March break to April was to allow an extra week of in person school before having to shutdown for the rest of the year.
They have mandated masks for grades 1-3 now, and supposedly aren't allowing mask breaks for outdoor recess anymore though in practice kids outside at recess around here still seem to spend much time huddling in groups without masks. Half of all Ottawa schools now have at least one case. They don't always announce this at the school anymore - anecdotally we've heard of several cases in the last few weeks where classmates are even covid positive but the rest of the class has not had a call from Ottawa Public Health for over a week.
We've agreed that the kids must now wear masks as well as distance if they are playing together, and in order to use our play equipment we're asking kids to use hand sanitizer first.
At time of writing, Ontario has imposed province-wide restrictions. Rather than "lockdown" (or mockdown as some people have taken to calling it), this is a "shutdown". Schools are still open and today I went to the mall to buy Easter clothing. I decided this was low risk for me because the store in question opens out to the main entrance and I (correctly) assessed that there would be few customers (no one else). It's pretty crazy this is allowed though, and I was dismayed to see people lined up indoors for the grocery store when this is supposedly never to happen.
The main impact of the shutdown is on restaurants, personal care companies (haircuts) and gyms which have been ordered to close. So for our family the main difference is that karate is forced to be online (new schedule) and Elizabeth can't do her private class in person. They were briefly allowing outdoor classes in Toronto but that's been suspended now as well. Matthew, however, can continue to go to horseback riding for the moment. Seeing as the cases continue to climb exponentially even in zones where similar restrictions are in place we expect more restrictions to come. Perhaps we'll even have a real lockdown.
You might also like
- Homeschool wk may 11-15
(0.442769)
- Virtual school: Week 2
(0.432018)
- Matthew turns 8
(0.431571)
- Music Day
(0.429383)
- H1N1 Rock Concert
(0.427414)
All