April 4, 2021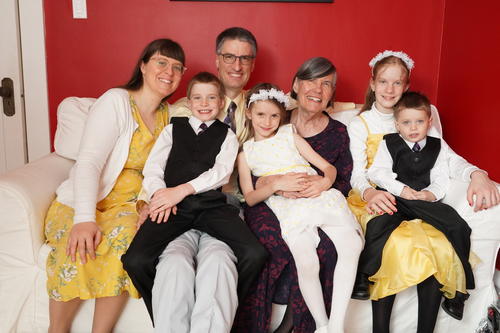 Alleluia! Christ is Risen!
We celebrated with:
An Easter egg hunt (12 eggs each)
Breakfast with Grandma J (bunny pancakes, chocolate nests and a side tantrum of what do you mean I'm not also allowed to eat my entire chocolate bunny instead of the extremely sugary and chocolate themed breakfast)
Photos in our Sunday best
Church in the basement
Distanced (masked) walk with Uncle Chris, Auntie Yukiko, Erika, Maria and Uncle Mark. The Ontario outdoor gathering limit is groups of 5 and we respected that. Erika met Elizabeth at the man with two hats, Uncle Chris, Maria, Uncle Mark, Brendan and Matthew met at the strange red statue and the rest of us met at the circular tulip bed. We waved to each other as we passed but mostly we chatted in our own little groups.
Zoom with Dave and Karen's crew, Auntie Janice, my parents and Auntie Heather.
Dinner - Green beans oriental, sweet potato, buns, a butter lamb, salad and the most enormous ham I've seen in a long time. Trifle for dessert. We're reading the Jungle Doctor right now and tonight's story was all about a snake that ate a hard boiled egg. The kids were also very amused by tonight's Zippy story. "Hey, that's us!" they said, seeing all the animals watching the zoom screen.
You might also like
- Easter Sunday
(0.368317)
- Happy Easter
(0.364571)
- Social Bubbles: Day 89
(0.364146)
- Old fashioned family day
(0.361079)
- Easter Sunday
(0.357654)
All