April 5, 2021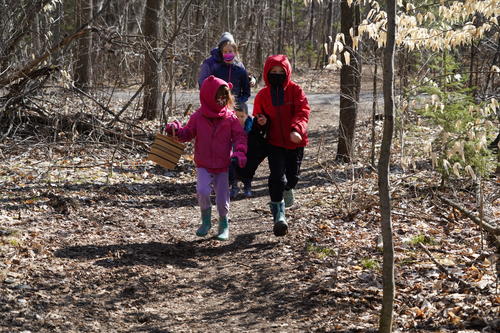 Our traditional Easter Egg hunt went ahead, albeit with modifications.
First, we went for a walk out by Bruce Pit and the kids hid eggs for Aidan, Caitlyn and Evelyn on one side of the path while Brendan and I hid their eggs on the other side. Then we texted Dianne and her kids to tell them the eggs were there. Unfortunately we didn't pick a quiet enough path and in the five minutes or so before they showed up random other kids started finding and taking their eggs! Luckily they were fast enough to be able to get most of them back! We had planned not to cross paths but we did end up waving and Elizabeth and I went over to see if we could help locate eggs in case some were too well hidden.
After our hunt we did a loop around in the forest and then we went home for hunt number 2! At a prearranged time, our kids hid eggs outside in all the participating neighbour kids yards. Then we rang Easter bells, retired to our own lawn and everyone came outside to hunt for eggs in their own yards. Brendan hunted children with his zoom lens lol.
It was pretty fun!
You might also like
- Earth Day
(0.360931)
- 12 Days of Christmas: New Year's Eve
(0.359274)
- Halloween
(0.358354)
- Daddy and the buck bucks
(0.357143)
- Canoeing
(0.356852)
All