April 16, 2021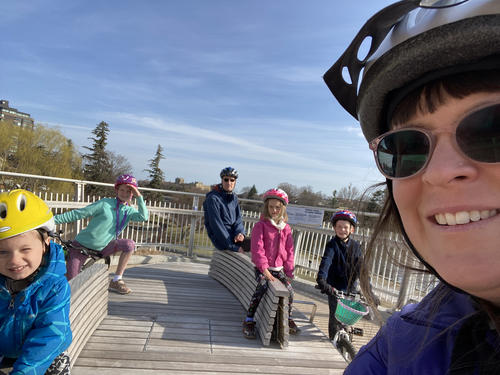 April break turned out a bit differently than originally planned due to Matthew grievously wounding himself but in general we had fun.
We always homeschool during breaks, but since I'm currently homeschooling Matthew and the kids are all at home all the time my enthusiasm was somewhat muted.
We decided that April break would be a good time for Elizabeth to start her birthday present "30 Days Lost in Space" which is a kit to learn about circuit boards and coding. She is loving it. She also started a 1000 piece puzzle we got from Auntie Mary for Christmas and she's writing a story about Mars. There was lots of art - Elizabeth got some new watercolor pencils and is trying out new techniques. Matthew and Amelia worked on reading and math. Matthew and Xander zoomed and played Minecraft together.
There was lots of playing together and fort building and lego and general mayhem. It was even warm enough to have a water fight before the rain came and drowned out the rest of the week...
We also had a dedicated chore time every day in a vain attempt to get started on our spring cleaning projects; or at least unbury the house a little. Of course there was also our bike challenge (complicated by Matthew being unable to bike). Prior to Matthew hurting himself Amelia drove into the curb and fell off her bike, which prompted us to order a new first aid kit just for our bike. It came with two tourniquets which I sincerely hope we never have to use.
Matthew and Elizabeth invented a game called taxi where he gives her rides on the back of his bike. Amelia mastered her brakes and is working on signalling. Actually Matthew is still working on that too but has at least figured out the mechanics now (he's occasionally prone to signalling left when he means right).
Matthew started a new french class as I am exploring options for next year. So far he's enjoying it greatly, even though it means more homework.
The kids suggested we should have a cooking class every day and in a fit of madness I thought that would be a good idea. We had a cookie bake off. The judges won because we got to eat cookies. Matthew won best looking, Elizabeth won best tasting, Amelia won cook's choice and Michael won most unusual. The rest of the week we mostly had cooking class in shifts and it might have doubled as dinner prep hahaha. We made vol au vents and smoothies and chopped veggies. We had a gluten free vs regular oreo blind taste test. I'm actually not a big fan; I find the texture of oreos offputting. I'm told that they taste very very similar and at first most of our tasters could not tell the difference. We'll have to try again with some other GF oreo knockoffs lol.
You might also like
- Virtual School: Week 26
(0.430361)
- London
(0.428787)
- Homeschool wk may 11-15
(0.426319)
- Virtual School: Week 12
(0.425061)
- Matthew is 3
(0.423409)
All