June 5, 2010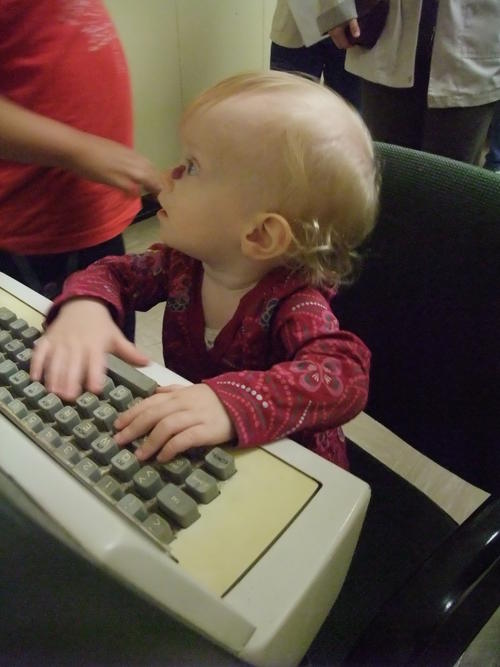 It was Doors Open Ottawa again this weekend, and Brendan, Elizabeth and I duly headed out Saturday to visit the Diefenbunker (Canada's Cold War Museum) with friend Michael.
Technically the Diefenbunker can be visited at any time. A Doors Open purist would take the opportunity to visit buildings that are normally closed to the public, but it is already June, Doors Open Ottawa meant that the Diefenbunker was offering free admission and I have a lot of museums still to visit for my New Year's resolution. I was completely sold on the idea once I found out there was a geocaching puzzle to solve there too!
So off we went to Carp.
The Diefenbunker is a ginormous underground and formerly secret complex built in the late 1950s to house 535 of Canada's most important personnel in case of a nuclear attack. I could say most important men and wouldn't be far off - even now the washroom facilities for women are sadly lacking. Forget change room facilities; we ended up changing Elizabeth in the trunk of the car.
The complex was obviously never used for its intended purpose, and eventually was taken over by the military. From 1980 to 1994 the complex was used for top secret military businesses that is still mostly classified. Or so the guides told us. When the military abandoned the bunker, some thought the complex should be destroyed. The Hell's Angels wanted to buy it. A mushroom grower thought it would be a good place to expand. Someone else thought it would make a fantastic place for paint ball. But ultimately it became a museum. No one asked us and we agree that paint ball would be too destructive, but the Diefenbunker should totally consider converting part of the space that they aren't using to a laser tag facility. Seriously!
We thought about getting a guided tour but in the end didn't and were glad because Elizabeth would have ditched the tour guide in less than five minutes. Some rooms she found very interesting, and others not so much, so it was just as well that we were travelling at our own pace.
To be continued...
1
On June 11, 2010 at 01:06 pm
Grandpa H
said:
Is that a real IBM 360 mainframe in the raised-floor computer room?
2
On June 22, 2010 at 03:00 pm
Dad
said:
I'm pretty sure that it is too new to be a 360. It was Carleton's main system in the 90s. When Carleton upgraded in early 200? they offered it to the Diefenbunker. It did appear to be in opperation (complete with a guide standing guard over it and making sure no one got too close. Why they would want to pay the bill to keep that beast running is beyond me though.
You might also like
- 24 Sussex
(0.407096)
- Grand Reopening
(0.406015)
- Cumberland Heritage Museum
(0.40367)
- Bloodwork
(0.39793)
- Butterfly Adventure
(0.396435)
All