April 24, 2021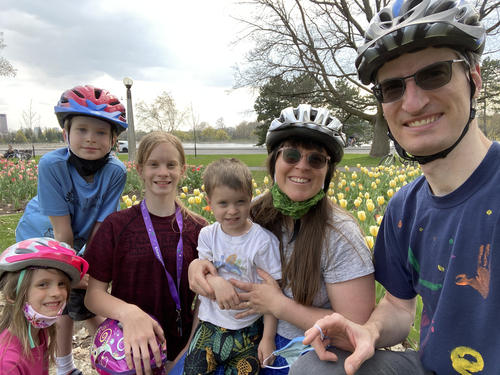 We went past the tulips as part of our daily bike ride and decided to take a picture. It was a zoo because of the nice weekend weather and many people driving in to see the tulips; we suspect the park may have restrictions if this continues.
Our neighbours dropped off some cake pops "just because". This was super popular with our kids. Originally we were going to eat them on our bike ride as a picnic snack but it was very quickly apparent that we did not want to stop more than the thirty seconds it took to get our photo with the tulips so we came back home.
Then grandma came for dinner. The kids insisted we eat outside (brr) but they agreed that we could have ice cream indoors where it was warm.
You might also like
- Victoria Day
(0.345104)
- LRT Grand Opening
(0.343704)
- Spring!
(0.343077)
- Apple Picking and Kontinuum
(0.340426)
- 12 Days of Christmas: Dance Party
(0.332773)
All