May 7, 2021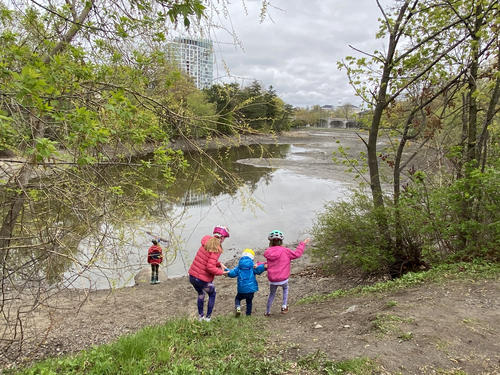 Matthew actually did most of his assigned math homework this week because they are working on things like how to spell numbers in french (NOT A STRENGTH) and measuring things. He very much enjoyed planning out the various things asked of him this week, especially his "zoo". Calculating the perimeters and areas was less fun but "easy enough". Matthew's new french class introduced him to a reading program called Boukili which he is finding very amusing and he got Amelia to try some books too. The two of them are now sometimes helping each other read. French class is also using a program called ABC Majesté. Both french classes are covering nouns and determinants at the moment. In shop class, Daddy and Matthew started dismantling the mattress in the studio.
Lots of art and puzzles this week. Matthew did a surprisingly difficult 100 piece puzzle. It is a lentricular image so you couldn't move your head or the picture would shift. The pieces fit together even if they were wrong so you could not even use the shape of the puzzle to figure it out. Amelia also had fun putting together some new puzzles on loan from Dianne.
In class Amelia is doing some reading in her small group. She is also working on graphing, but wasn't terribly interested. She grudgingly agreed to write out all the names of the people she wanted to ask her question to ("What's your favourite fruit?"). They did an "atelier" at the end of the week again where the kids all pick an activity to do in groups. Amelia picked lego and built a house.
Elizabeth is coming up on the last week of her lost in space project. She's decided to do a presentation on her project as a "passion project" for english class. At school they are learning about electricity which she thinks ties in very nicely. They are doing fraction addition. She had to do an oral recording of a poem and draw faces. In art class, Elizabeth made owls out of clay (see Mother's day for end result!).
SpaceX starship had a launch this week and somehow we've all gotten very interested in this. Unfortunately the launch was delayed until mid-way through Matthew and my Zoomba class. We might have been slightly distracted at points... The launch was successful though!
It was a pretty nice week so of course we spent a lot of time outside. We also did a fair amount of biking, including one longer 9km trip down to the Bytown museum locks. It was neat to see empty locks with the water level in the canal being low. On our way to and from we waved to grandma on her balcony - she'd already been biking that day and was exercised out! We went looking for art allegedly in the arboretum and discovered a cute little island with a beautiful climbing tree that the kids have dubbed "La dame de la marée".
You might also like
- Summer School Summer
(0.453906)
- Virtual School: Week 30
(0.453161)
- Virtual School: Week 35
(0.452269)
- Homeschool wk apr 6-9
(0.449635)
- Homeschool wk may 11-15
(0.446477)
All