May 9, 2021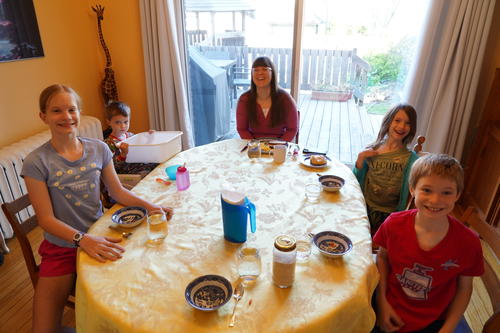 The kids got up early and made me breakfast, but before I was invited down to enjoy it apparently Michael suddenly said "uh oh" and threw up all over the floor.
Brendan got major points for dealing with the mess. The kids at first refused to be in the same room as Michael without masks but with some coaxing agreed to take a photo while holding their breath. Then Michael was removed to another room so they would eat breakfast. The other kids then spent the entire rest of the day outside "away from germs". The "kids" gave me a new green tablecloth for ordinary time, as well as new oven mitts and some clothes. Elizabeth made me (and Grandma) owls. Everyone made me beautiful cards and other works of art.
Margaret was supposed to come for dinner, and although we discussed postponing, dropping off food or eating outdoors as the day wore on it became obvious that it was too cold and windy to eat comfortably outside. We weren't worried about covid; Matthew hadn't been to forest school the previous week and I wasn't going into grocery stores and those are our most likely points of exposure other than Margaret herself! Pretty unlikely for everyone to be asymptomatic except for Michael; he's really quite isolated.
By late afternoon Michael had recovered enough that we decided it would be fine to take him biking too - isolated as he was in the chariot. Long story short Margaret decided to brave the sick house. I did prepare the food using a mask just in case I was incubating something but in the end this was just like Michael's similar episode last September and no one else got ill. Very strange.
You might also like
- Family Day
(0.416204)
- Hike in the woods
(0.409186)
- Family Day
(0.408068)
- First outings: Music, library, karate
(0.40694)
- Homeschool wk june 15-18
(0.399134)
All