May 10, 2021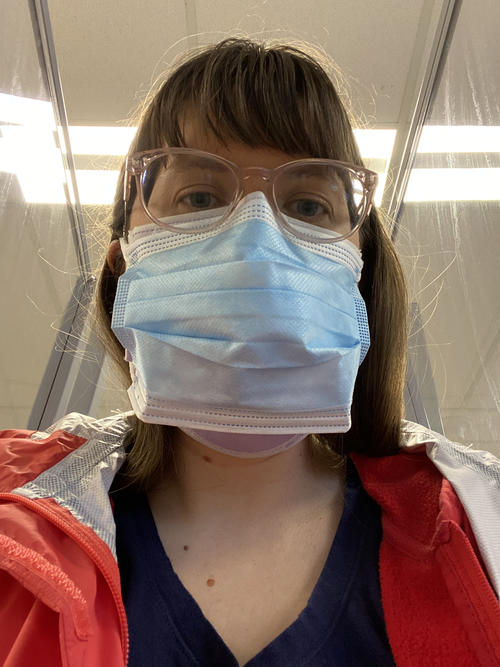 A few weeks ago I blinked and suddenly had pretty rainbow waves traveling across my left field of vision. Since then I've had quite a few migraines and my left leg has been terribly sore. I called the doctor on Friday just to let her know about it. It got progressively worse all weekend to the point that I was waking up several times a night Sunday night. So I called back first thing Monday morning. Quite aside from wanting some kind of solution to the leg, of course there was some thought about whether this was a weird AZ vaccine issue. My doctor's office called back and left a message stating "This is my last call of the day so you can't call back. If I had gotten a hold of you I would have given you a requisition to go get your platelet levels tested. The doctor would have liked you to do this today, but I guess it's impossible. If it gets worse, go to the ER." I was not very amused, especially since the leg was rather worse. Brendan insisted that I go since I was hardly able to sit all day due to the pain.
Let's just say that my pandemic experience at the Civic was not nearly as good as my earlier pandemic ER visit at the General.
The waiting room was all set up with plexiglass liners for droplet control. There was no plexiglass separating me from the person sitting right behind me, effectively trapping air in a tunnel. Right on cue the person sitting back to back with me started coughing. I moved. Memorable moments: sitting in the waiting room next to two guys, one wearing a full bubble respirator and the other kind of moaning to himself. He suddenly leans over and demands that bubble guy gets him a nurse. "I have a collapsing lung!" he says urgently. Later I was hanging out waiting for results back in the main waiting room when a guy shows up saying he feels terrible. He has most of the covid symptoms and in fact is waiting on a covid test. Triage refuses to see him in the same room and tells off the guy waiting with him. "If you need to seek medical care then it's okay to go to the hospital but your family members are all supposed to be in isolation while waiting for test results. He should not be here!!!" Everyone in the waiting room edges away. Meanwhile, there's a weeping woman is having a fight with someone on the phone and sounds of retching from somewhere nearby.
I was miserable because when they took my blood, they left in the IV port "just in case". I should have insisted they take it out but I sat with that thing bothering me for hours. Finally, more than forty minutes after I had received my bloodwork results on my phone I went to a nurse and told her that I needed someone to take it out or I was going to do it. I got many dirty looks but they insisted they were going to come and do it "next". Ten minutes later they finally did. As the retching sounds became violent throwing up just around the corner I couldn't deal with being there anymore and told the nurse I was leaving. "I'll follow up with my doctor, but I've received the bloodwork I came for and I am going home now." Magically a doctor showed up and rather sheepishly told me I was free to go.
Margaret very graciously drove me to and from the hospital which was super appreciated, especially since it was very late by the time I got home. I'd definitely recommend the General ER over the Civic if feasible as they had a much easier time keeping people distanced.
You might also like
- Pandemic ER
(0.499168)
- Michael Gabriel
(0.458424)
- Virtual school: Week 2
(0.453806)
- Home
(0.453249)
- Airplane and skating
(0.450322)
All