May 14, 2021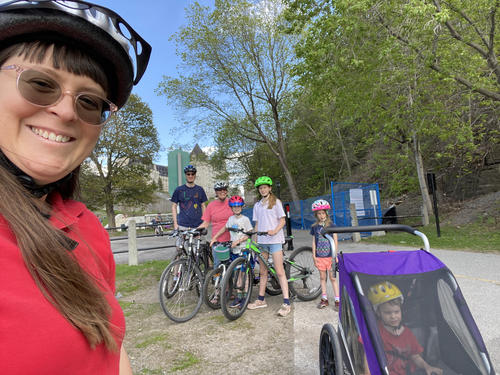 Lots of biking this week, despite some pretty rainy days. We did the parliament hill loop twice! We got to watch a heron fishing by our favourite tree "La dame de la marée" on Heart Island in the arboretum.
Matthew made more glue art at school; seems fairly popular to make window clings for some reason. He's working on ouille sounds in class this week, which he declared "very grade one". His other french class suggested a game where you identify parts of the sentence while wandering around a mario-type world which he enjoyed greatly. Ylan gave me a salt dough ornament for mother's day, which was very nice.
Amelia did a lot of puzzles and playmobile this week. On Thursday she got to choose and activity and she chose the lego "atelier" in order to make a house. The kinders had a story about dandelions and all the kids gathered many bouquets to show each other onscreen. She decided to do some of her meets outdoors even though it was chilly to try and catch up a bit. It's spring, so it didn't stay cold.
In science we talked about heat transfer and did some experiments with elastics and tinfoil.
Elizabeth's art class did shadows and silhouettes this week.
Michael did floating and sinking experiments with grandir ensemble and played a lot in the sandbox.
You might also like
- Virtual School: Week 34
(0.434876)
- Virtual School: Week 39
(0.402746)
- Virtual School: Week 37
(0.395639)
- Virtual School: Week 18
(0.381969)
- Lac des Loups
(0.376658)
All