June 11, 2021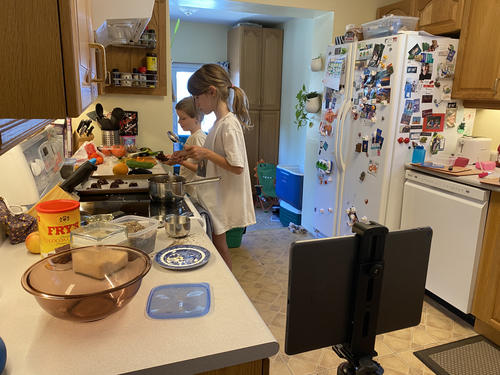 Amelia's class did much math using stories. Her Thursday atelier was cooking again so we made cookies while Matthew prepped supper. On Friday she had a beach day and with the background and the (real) sandbox I thought the effect was pretty good. She was outside basically all day but her small group was so interested in doing a show and tell of ALL the various seashell items in their houses that instead of doing class for 20 minutes Amelia stayed in front of the screen chatting for over an hour and a half! I think her teacher missed her break but everyone was clearly loving it so I didn't intervene. There was also a story about a little turtle and an apple tree.
Matthew biked at forest school and played in the sprinkler afterwards to cool down. The sprinkler was apparently shaped like a caterpillar and extremely amusing to play with. For shop class, Matthew and Daddy cleaned bike parts.
In virtual school this week Elizabeth had to pick a job she would like to do and write about it using the Metiers Quebec website. She started looking into various scientific employments but in the end decided to write about being an artist. I wondered when the look and feel of this website was first implemented hahaha. She had to draw a self portrait. She was not happy with the results. There was a wood louse in her bed so she did a little art therapy to cope. Elizabeth and Daddy marked the boundary line between our house and our neighbours house using the survey holes from an official survey done by Brendan's parents as the neighbours wanted to plant a tree but not too close to the fence that isn't there yet. She found the process very interesting. In art class she learned to draw a space scene, which I found amusing as we're planning something similar for our next paint night. She did it twice because she was having so much fun, apparently.
Michael continued to attend Grandir ensemble and did lots of playing outside this week. He likes to tell me about toys that are on the back porch that "I want to play with" so this week he talked me into dragging out the firetruck popup tent and the balls to play in.
Of course we continued to bike every day, even though some of the days were brutally warm. There were caterpillars everywhere. We also did lots of gardening. Our neighbour Hannah and Mike two doors down gave us their cute little playhouse and the kids spent some time cleaning it to get it ready to paint.
You might also like
- Virtual School: Week 34
(0.472115)
- Virtual school: Week 3
(0.440972)
- Virtual School: Week 20
(0.438045)
- Homeschool wk may 19-22
(0.437729)
- Virtual School: Week 39
(0.436932)
All