June 6, 2021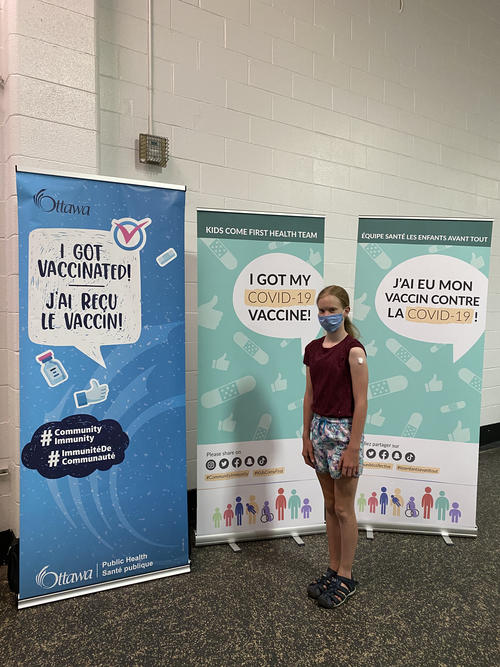 I was expecting it to be difficult to get Elizabeth a covid shot, but the city of Ottawa reserved many appointments for the 12-17 age group and it turned out that it was very easy to get her an appointment. I actually completely forgot to sign her up when it opened and it wasn't until I started receiving texts from others that I remembered. Luckily I had a tip to check out the St Laurent mass vaccination site and was able to get an appointment only a couple of days after the beginning of her eligibility.
Unfortunately, it was also a tournament day - and a double points tournament at that. We decided that Elizabeth would prefer not to know the exact date of the shot and kept it secret until after the tournament. She was a little annoyed that we wouldn't tell her when but admitted that it was the right call. Also she demanded and received four hours notice.
The vaccination centre was very well organized and she got her shot without incident. Afterwards we biked to Marble Slab for her promised ice cream treat.
You might also like
- Come Sing Messiah
(0.360111)
- Pie Day #2
(0.34901)
- Swimming lessons
(0.341951)
- Battle Zone Karate 2017
(0.335404)
- Lac des Loups
(0.334776)
All