June 6, 2021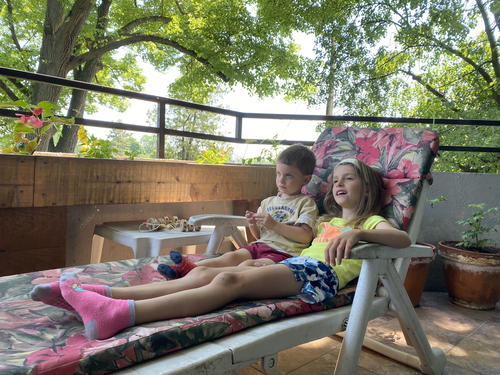 It was the boys' turn to go make pie with Grandma, but since Elizabeth had a tournament today Amelia and I got to tag along.
Michael was quite disappointed not to get to ride in Grandma's car, but moving the car seat really didn't seem worth the effort for a less than one kilometre ride! We were originally going to bike over, but the question of what to do with the chariot and nervousness about leaving the bikes unattended meant that we thought better of it. There's been a massive increase in bike theft in our area due to the high demand for bikes during the pandemic so we decided better safe than sorry!
We biked up to Brown's inlet and along the Rideau canal to Dow's lake, then home for church. Unfortunately I miscalculated because while I was quite correct in telling Elizabeth that we had lots of time for church there were still more than a dozen divisions ahead, it turns out that many of those divisions had zero contestants! When I checked our progress at the end of our service suddenly we went from having forty-five minutes of time before competition to a massive rush to get the little noisemakers out the door and Elizabeth logged in. She did not really have time to warm up as a result.
After all that rush it was nice to relax at Grandma's with Amelia (she was not to go into the kitchen). Matthew decided they would rather eat crumble than pie, so they just made one larger crumble. Michael breezed in and out of the kitchen but was not particularly interested in actually helping as there are so many things to see and do at Grandma's! Since we don't get to go inside other people's houses right now, Grandma's house is downright fascinating.
After the crumble was made, we watched Elizabeth compete while the kids watched a documentary on trains.
You might also like
- Grading for a brown belt
(0.421436)
- Piano Recital
(0.41358)
- Virtual Piano Recital
(0.411255)
- History museum
(0.406096)
- Derecho
(0.40535)
All