May 27, 2021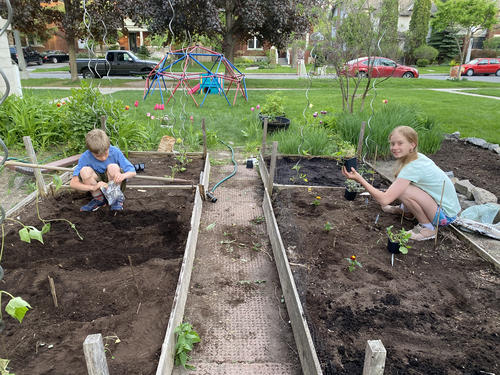 All the kids have their own garden plots again this year, one for vegetables and one for flowers. Matthew planted a bunch of things at forest school and then promptly mixed up / lost the labels so we aren't entirely sure what is in his plot but we think he has some carrots, some beans and beets, as well as perhaps kale and melons.
Elizabeth has planted Brussel sprouts, a hot pepper, some herbs and marigolds. She has plans to plant corn, but I haven't actually acquired the seeds yet.
Michael and Amelia have both planted beans, basil and tomatoes. Michael also planted a marigold and some carrots. Amelia planted a sweet pepper.
You might also like
- Spring (and early summer)
(0.391111)
- Insectarium
(0.319471)
- 2 weeks old
(0.318258)
- Pumpkin Carving
(0.318078)
- Spring
(0.314079)
All