June 12, 2010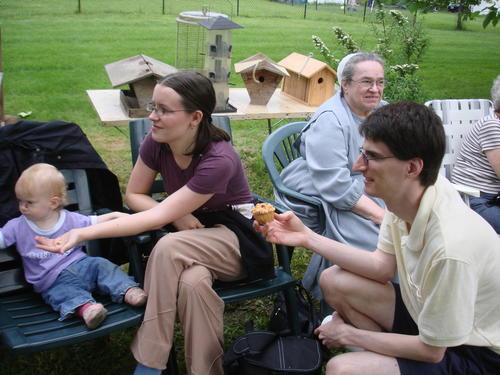 I've been to an auction once before, but it must have been the better part of two decades ago so I don't remember much beyond thinking that auction patter is pretty cool.
The auctioneers at my grandparents' sale were a father-son team and obviously had done this many times before. Despite an ER trip the day before, both grandparents came to the sale. My grandmother stayed in the car, but that didn't cramp her style. Many people came to visit with her, catch up and generally hang out. Grandpa hopped into his golf cart for one last ride and went zooming around to all the action.
The clerks registered over 300 people for bidding (we were number 176). I'm told that around 150 is considered good. So there were a lot of people. My grandparents' church youth group sold hamburgers, hotdogs, donuts and fruit kebabs at the sale to raise money. They ended up making more than a thousand dollars in profit!
The sale itself would have been awesome if it wasn't for all the memories walking out the door.
Every person who wanted to bid registered for a number at the desk. When you wanted to bid, you raised your number at the auctioneer. The professionals just put their numbers in their shirt pockets and nodded, but Janice and I took no chances, waving our cardboard wildly in the air when we wanted to bid. We learned early on that it was important not to be the first person to bid. If you were the only bidder, you could get some pretty good deals, provided that you let the price go down first! My Grandmother's good china went for only a few dollars. The cuckoo clock for $45. I bid on it but couldn't talk myself into paying more than fifty dollars. I'm still a bit sad about that. Other things went for a lot more. The old glass Texaco globe that was on top of my grandpa's gas pump back when he owned the garage fetched $500. An engine that he'd paid $20 for went for $1600. If you listen to the auction patter of the son in the video below, you'll notice that he says what sounds like "potato potato". According to wikipedia auctioneers often use a filler word to distinguish between the current bid and the next suggested bid, so that's my best guess as to why.
We also learned that people collect the craziest things. One guy actually came ahead of time to scope out my grandpa's yard sticks. To the right person, yard sticks can sell for $25 a piece. Who knew???
Antique dealers are strange too. My Aunt Mary said that one came to the house "about the old wardrobe". When asked which one, he said he'd look at the oldest first. This was a neat piece of furniture that I had never noticed before, apparently owned by Jakob B, my great-great grandfather. It predated rods in the closet; instead there were hooks for your clothes. It also was designed to come apart really easily without tools. They went downstairs together and he measured everything, muttering about every ding and missing piece of wood. He eventually bought it for $4600. But when she took him to see wardrobe number two he took one glance at it. "Not interested", he announced and marched out of the house.
1
On June 23, 2010 at 09:37 am
Grandma H.
said:
One person's junk is another's treasure... but as you say, memories are another thing. They may fade, yet no one can really take them away. I think here is a word for it here in Portugal= saudade.

Can't imagine what he saw in that wardrobe--all I remember was the Christmas candy we used to find in it.
2
On June 23, 2010 at 09:05 pm
Rachel@Grasping for Objectivity
said:
Wow - that does sound fun! I've always wanted to go to an auction. I need to find one to go too.



Although I'm sure parts of it were definitely sad because the things being auctioned off were from your childhood.
You might also like
- Farm Camp
(0.431124)
- Owie
(0.422392)
- Cottage Days: Zip lining, Regatta, Squeegee
(0.420185)
- Home again, home again
(0.419636)
- Music Day
(0.418572)
All