July 11, 2021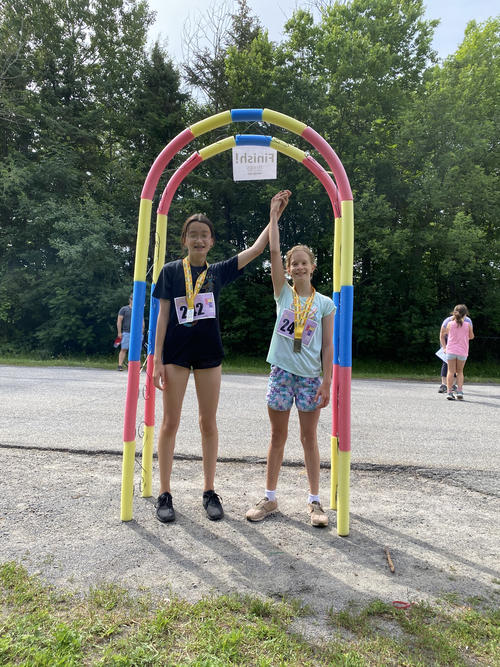 Once again Dianne and David hosted an "at home" triathlon which was most excellent. Despite a slightly smaller than standard pool the rest of the setup is in my opinion better than the "real" thing and it's always amusing to tell your kids they get to swim 50 laps.
In the lead-up to triathlon the kids were unusually nervous about the swim section, and not at all concerned about the bike portion (historically the part they worried about the most)
Neighbours Elizabeth and Charlotte came this year as well. Elizabeth was in the same heat as Matthew while Amelia was in the same heat as her friend Charlotte.
Prior to the race, neighbour Elizabeth had been talking a great deal about how she was so terrible in the pool, so Matthew was surprised to find she was much faster and more comfortable in the pool than he was. He has resolved to learn "proper swimming instead of just doggy paddle". They stuck together all race and had a lovely time chatting especially during the run/amble/walk section of the race.
Again this year Elizabeth and Erika decided to compete up a level. Last year they did the 14-15yo group but it was "too easy".
Elizabeth and Erika Swim 350m (50 laps), bike 10km, run 3.5km in 1:20:00
Michael Swim 20m (3 laps), bike 500m, run 100m in 18 min
Amelia Swim 25m (4 laps), bike 1500m, run 500m in 18 min
Matthew Swim 75m (11 laps), bike 3km, run 1km in 31 min
You might also like
- Spartan Race
(0.360847)
- 12 Days of Christmas: New Year's Eve
(0.35628)
- Summer school week 2
(0.352313)
- SunRype TriKids Triathlon
(0.350929)
- #Jessdoesthemath
(0.349206)
All