July 2, 2021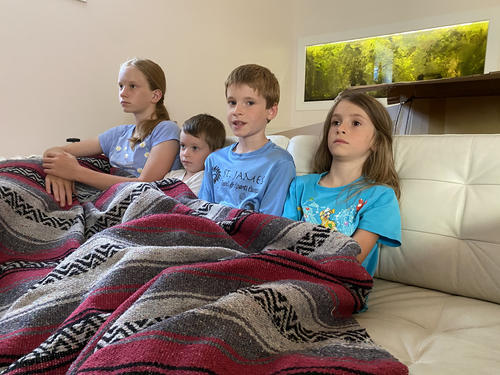 We're continuing the bike challenge, so we biked every day.
Michael had a headache and suddenly threw up on Wednesday which put a damper on our plans. Other kids didn't want to be around potentially contagious sibling and we'd previously planned to go to the beach so the older three and I biked to Mooney's bay despite threatening skies. It rained while we were there but we were already in our swimsuits so this did not matter.
We built an epic fort out of cardboard and fort magic. This week's theme is "party week", so we had a wii party, did a disco dance and went to the beach in addition to celebrating Canada / Mary day.
Our plan for this summer's homeschooling is:
Elizabeth has 2 book reports to complete, an arduino project and a lego movie on the history of the Rideau canal to make. She is to memorize a poem and do a research project on poisonous plants. We'll work through a light unit from her physics science curriculum. She'll also keep working through Math-u-see, as well as playing prodigy.
Matthew and Amelia will read to me as often as possible. Matthew is learning his times tables and working through Math-u-see Gamma, and playing prodigy. Amelia is working through Alpha and playing Monster Math.
All the kids will keep a daily journal, though we are planning to consolidate the weekend to make things slightly easier. This year journals will be kept en français. Matthew is going to be encouraged to do his in cursive and we will be working on sounding out his frequently used words to improve spelling. I've changed his goal to write about 3/4 of a page rather than focussing on number of sentences. This is an attempt to have him write more descriptive sentences instead of figuring out the fewest letters possible. Amelia will also be working on sounding out some of her words and working on her penmanship. Matthew and Amelia have been banned from using the sentence "c'était amusant".
Everyone is also studying music history, latin and french grammar using various games.
For latin we are using dinolingo videos as well as duolingo for the older two kids. The first lesson went very well and even Michael is enjoying it.
Once a week we have a shop class one on one with Daddy. This week Elizabeth helped Daddy repair the window on the playhouse under the deck. Matthew helped Daddy level a temporary spot for the new playhouse and put the roof on. Everyone worked on getting the playhouse ready for painting.
You might also like
- Summer school
(0.4375)
- Homeschool wk apr 20-24
(0.428025)
- Summer school jul 27-31
(0.428006)
- Homeschool wk apr 6-9
(0.42608)
- Homeschool wk may 11-15
(0.423562)
All