July 9, 2021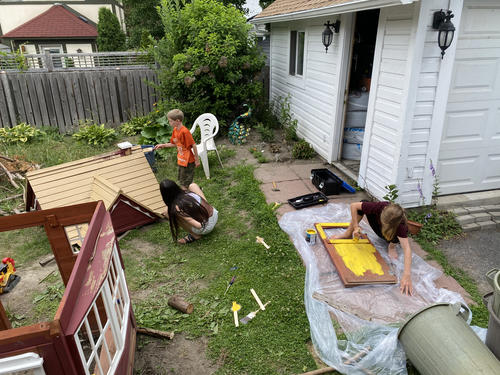 This was our last week before the triathlon, so we did lots of practicing with daily runs. I realized that while our daily bike rides meant that for once the older kids weren't worried about the bike portion, Michael actually hasn't been biking. So we pulled out the balance bike and got him to do some practicing as well.
For shop this week the older two kids helped us make canoe clips for our upcoming canoe trip. Amelia took apart her little car and painted it.
Erika came over and helped paint the playhouse. I mostly let the kids do it while I repainted our front door. Erika is helping out with childcare so we decided we would bubble with her. Everyone is very happy to have an extra person and Elizabeth was happy to have someone to spar with again.
Elizabeth did a lot of drawing this week. In art class she was learning cartoon characters as well as shading.
While Matthew was at his riding class this week, Elizabeth was at Teevens doing a bible study with Auntie Karen. They plan to meet once a week during the summer. After bible study and riding the kids had a chance to hop in the pool! Isabelle introduced us to her pet beetle.
Xander and Matthew have a standing minecraft "date" at the end of the week over zoom which they are continuing through the summer. Erika and Matthew frequently play minecraft as well, including this week.
Last but not least we hired our next door neighbour Noemie to run a camp for the younger three kids several hours a week. She started out with a scavenger hunt, science experiment and lots of time playing on the trampoline or in the paddling pool so suffice it to say Noemie days are being looked forward to with great anticipation.
You might also like
- Virtual School: Week 38
(0.421659)
- Virtual School: Week 39
(0.415642)
- Virtual School: Week 10
(0.405825)
- Virtual School: Week 37
(0.396169)
- PD Day
(0.395189)
All