July 23, 2021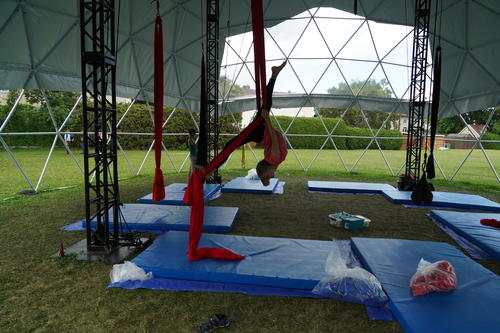 Elizabeth went to circus camp with her friend Olivia for the second year in a row and had a great time.
She especially enjoyed learning to use the devil sticks better and felt that she made a lot of improvement in her abilities with the silks. The silks are her favourite even though she burned the back of her knees sliding down too fast.
Unfortunately, I somehow misunderstood which group she was in for the end of week show and we didn't arrive in time for the first group. This meant that her cheering section missed everything. She was sad. I felt terrible.
Her teacher did allow her to show off her silks routine. It was without music and not in sync with Olivia as it was a duet so not quite the same but better than nothing. Another parent did video her gymnastics and props routine and was kind enough to share it.
Classic Elizabeth moment: on the way home she came up with three different ideas to make next year to ensure we don't ever miss her show again.
You might also like
- Virtual School: Week 39
(0.359006)
- Kindergarten graduation
(0.354793)
- Touch a Truck
(0.354712)
- Maria is orange-green
(0.352941)
- Vote Ontario
(0.352941)
All