July 30, 2021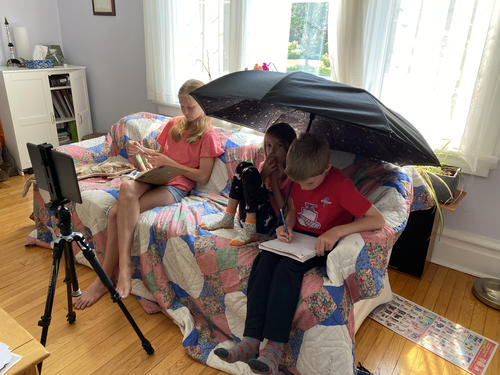 It's Olympic week here, which really is an excuse to watch a lot of Olympic sports. Michael is quite taken with all of the various things and loves to act it all out. The first time he was pretending to be a gymnast he tried to imitate a flip and face-planted headfirst into the kitchen floor. After that he was less keen until Elizabeth let him try in the padded dojo.
My favourite was while watching fencing he put a beach ball on his head to simulate the fencing helmets and then staggered all over the basement making fencing noises.
Originally I had big plans for our olympic week but mid week Michael suddenly became very snotty (we did not miss runny noses) and the following day Matthew and I both came down with fevers, sore throats and terribly runny but also stuffed noses. So the girls wore masks and played outside when not watching Olympics and the rest of us rested. Matthew recovered quickly after spending a day in bed, and then he too insisted on wearing a mask and staying away. In retrospect we realized that Elizabeth had had a very mild version of the cold last week at the end of her outdoor camp. This does not bode well for school in the fall... Everyone quit the daily bike challenge except for Elizabeth, who gamely biked 74 times up and down and up and down the driveway in order to meet the 2km requirement while under home isolation pending covid test results.
By the end of the week everyone had recovered well enough to take advantage of next door's trampoline, who had kindly allowed us to use it while they were away.
Elizabeth finished her assignment on
You might also like
- Matthew's first skating class
(0.390593)
- Virtual School: Week 34
(0.389336)
- Mother's day
(0.389011)
- Matthew turns 8
(0.381786)
- Virtual School: Week 35
(0.37588)
All