June 16, 2010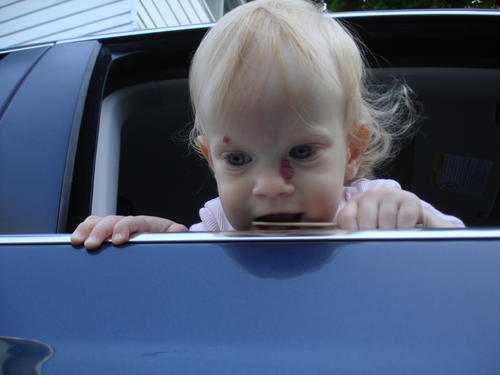 I mentioned that Elizabeth is very keen on cars at the moment. She likes to push anything with wheels but little toy cars are a particular favourite ever since our Ford dealer gave her a Tonka truck to play with while they tried to convince us to buy an SUV.
We've had a Ford Focus Wagon or hatchback for nearly a decade but Ford's decision to stop selling the non-sedan version of the Focus in North America coupled with their exit from the leasing business for vehicles in our price range ultimately outweighed our liking for our dealership.
We now have a brand new Volkswagen Golf Wagon (gas not diesel for those who might care). In many ways it reminds us of our first car (the Ford Focus Wagon). Wagons are really a very practical design. You get amazing amounts of space in the back for whatever you may be hauling around without the extra weight of an SUV. In our case comparing the Ford Escape compact SUV with the VW Golf Wagon you get about the same engine in both but the Escape drags itself around whereas the Golf feels like it could take off if you're not careful (170 hp - our first wagon had 110). Now given that the two differ by only a few liters in terms of cargo capacity it really is quite easy to pick one over the other if you care at all about having a little fun while you are out for a drive.
Once we got over the majority of the emotional trauma of switching brands we discovered that a lot has changed since our last car. Our last three cars have basically been identical and had very little in the way of improvements over each other. Bessie's new coat makes up for this lack of change and then some. Two pixel based digital displays (one is a touch screen), funky fading lights, USB, SDHC and iPod music connectors, compass, temperature, tire pressure monitoring, low washer fluid, bluetooth handsfree phone support and the coolest ever ellectronic stability control system. During the test drive the sales guy took us down an 80 km road, pulled over so that two wheels were on the gravel shoulder, said "don't try this in any other car" and jammed on the brakes. After a brief moment of "great the sales guy is going to kill us here" we realized that the car had just come to a stop in a straight line without so much as a wiggle. After that there were lots of other cool things that he showed us but it didn't really matter because we were sold.
Oh and Elizabeth screamed less in the VW than the Ford during the test drives (despite, or perhaps because of, the crazy moves).
1
On June 23, 2010 at 09:09 am
Grandpa H
said:
Looks and sounds great! Of course the big questions are:

- can you get a roof rack for it, to carry canoes and lumber?

- will a 4x8 sheet of plywood fit in the back?

:)
2
On June 23, 2010 at 09:34 pm
Dad
said:
Oops, should have mentioned that it has a roof rack (no cross bars but that's not a big deal, we can easily strap on some when we need to). Not sure about the 4x8 in the back but it wouldn't surprise me. I'll have to check now.
3
On June 24, 2010 at 12:40 pm
Mary @ Parenthood
said:
Guess who wrote the original post! My version would have been much more focussed on the TRAUMA of not having the same car anymore. I may wish I was brand agnostic but apparently this is not true when it comes to my car.



I do like the new car and associated cubbies in the trunk, but can I say that I liked the gear shift in my old car better? I keep trying to shift into fifth instead of reverse!



Our Ford guy thought we should invest the ten bucks and get a new license plate, but while I don't mind calling all of our cars Bessie regardless of colour, model or brand, changing license plates too would have been too much for me...
You might also like
- Virtual school: Week 2
(0.415805)
- Healthy Girl
(0.415308)
- A shower and the Great Glebe Garage Sale!
(0.414226)
- Family Day
(0.413925)
- Virtual school: Week 4
(0.412686)
All