June 18, 2010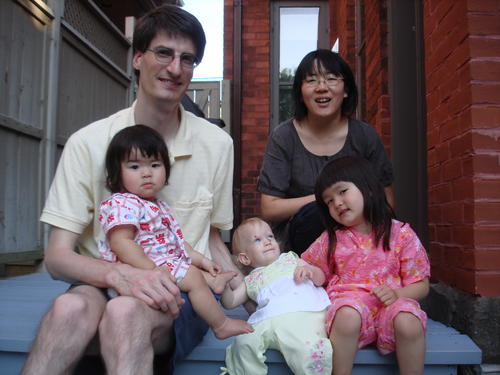 We celebrated Uncle Chris' birthday today with BBQ and gluten-free Sachertorte.
¾ c. butter
1 c. gluten free flour
7 oz. semi-sweet chocolate
10 egg whites, stiffly beaten
¾ c. sugar
½ c. apricot jam
8 egg yolks
½ pint whipping cream, whipped
Beat butter until creamy. Melt 6 ½ oz. chocolate. Add sugar and chocolate to butter; stir. Add egg yolks one at a time. Add flour. Fold in egg whites. Grease and flour 8\u201310\u201d round pan, (preferably spring form). Pour mixture in. Bake in 275 degree oven about one hour. Test with toothpick. Cool. Slice into 2 layers and spread apricot jam between. Cover with whipped cream and the remaining ½ oz. chocolate, coarsely grated.
To make the original Sachertorte, recipe courtesy of Mrs. Anna Sacher, prepare cake as directed above but do not split into layers. Spread 2 T. apricot jam over top of cake and cover with the following icing:
1 c. sugar
1/3 c. water
7 oz. semi-sweet chocolate
Cook sugar and water to thin thread. Melt chocolate in top of double boiler. Add sugar gradually to chocolate. Stir constantly until icing coats the spoon. Pour on top of cake. Serve with whipped cream.
1
On June 24, 2010 at 04:48 pm
Grandma H.
said:
Wow, the cake looks so yummy! Did Maria stand in honour of her daddy's special day?
You might also like
- GF Girl Guide Cookies
(0.327926)
- Brendan's birthday celebration
(0.323748)
- GF Beavertails
(0.307275)
- Birthday Boy
(0.301649)
- Amelia is 4
(0.285998)
All