August 31, 2021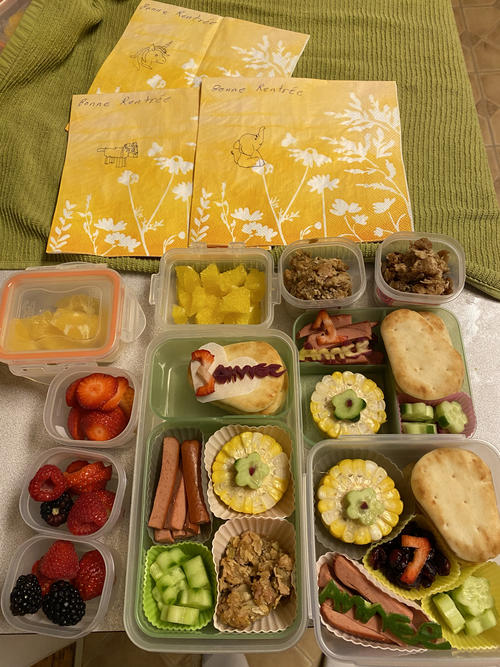 It's back to school day, and new school (buildings at least) for both Elizabeth and Amelia.
Amelia is starting grade one, with Mme Marie-Claude. I nearly cried with relief when I found out that Amelia was going to have the same excellent teacher that both Elizabeth and Matthew had for grade one! Amelia's friend Josephine from last year is in her class. Amelia was relieved to have kids she knew and who were also in PAVE.
Matthew is starting grade three, with Mme Josée. She's unknown to us, but our violin teacher Mme Danielle says she's nice so Matthew is looking forward to it. His friend Leo is in his class so he's happy about that. Actually Leo was also in his online class last year too.
Elizabeth has the biggest change as she has graduated from elementary school and starts high school at De La Salle this year. They grouped students into cohorts by instrument, so her friend Bianca isn't in her class, but Samia, Olivia and Shaughnessey are! She's excited but a bit nervous to be biking solo with her friends.
Matthew, Amelia and I are also biking to school every day, and Matthew's friend Nico will be joining us.
You might also like
- Summer school week 6
(0.365297)
- Grade 2
(0.358974)
- First day of Maternelle
(0.34947)
- Bike swap
(0.349231)
- First day of grade 3
(0.340461)
All