August 24, 2021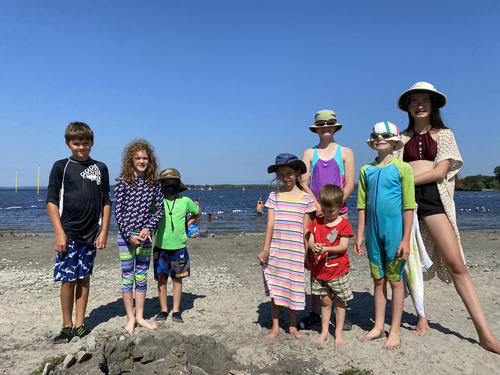 We met up with the cousins at the beach. Maria refused to go even when told she could pick whatever activity she could think of to suggest. Elizabeth and Erika both had a go at persuading her. Elizabeth apparently suggested both candy and ice cream as bribes afterwards and was shocked that her cousin turned it all down. So we went without her.
Matthew and Xander built an elaborate sandcastle near the water and the other cousins collaborated on their own giant structure.
There was swimming, and playing at the play structures with grandma and general relaxation.
It was quite windy and the kite surfers were out, including one that seemed to be stuck near the bay. Some of us wandered over to see and discovered a kite surfer who "wasn't very good" as Matthew put it, as he was utterly unable to get up on his board.
It was also fun to see Grandma and Grandpa again.
You might also like
- Rock Smash Hike
(0.359012)
- Orange swimsuit please
(0.352012)
- Treasure hunt
(0.349769)
- Science by Night
(0.347458)
- Rainbow Camp
(0.343797)
All