August 11, 2021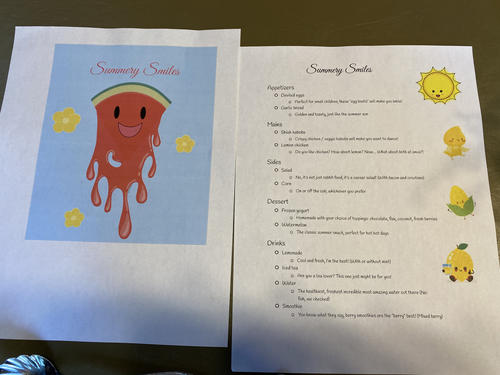 Elizabeth and Erika decided they wanted to do a restaurant at the cottage. They asked permission to do such things, decided on the best day (because we wanted to overlap with Auntie Mary and Uncle Chris and Auntie Yukiko), created signs and printed menus even before we left Ottawa. I was a little dubious about this venture because I didn't think they were going to be as enthused about giving up beach time to cook but they were very enthused.
They even made invitations to give out to Jane and Jay and our other esteemed guests in advance.
It was our first time having a patio area as well as indoor dining. Multiple places to take food seemed to get very confusing very fast. As usual the service may have been a bit slow and sometimes a little snarky. Everyone was quite warm but the food was good and I think both the customers and the staff ended up enjoying themselves.
You might also like
- Farewells
(0.378176)
- Christmas Day 5: Beach day
(0.345992)
- Happy Canada Day
(0.345711)
- French Class
(0.340369)
- Cousins move in
(0.340307)
All