October 28, 2021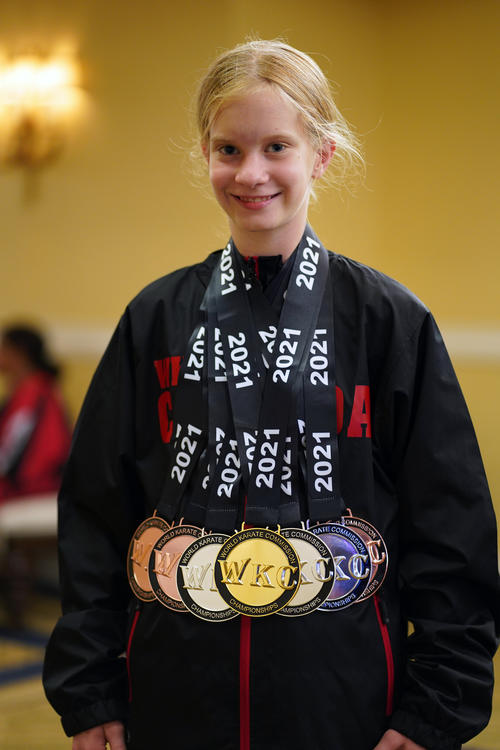 In August Elizabeth qualified to go to the WKC World Karate Championships as part of team Canada. This year the championships were held in Orlando Florida. This obviously presented a number of challenges both pandemic and non pandemic related. We decided that we would assume that the pandemic situation would be more under control by the time we needed to go and pushed forward with the plan that we would be going. There was also a great deal of learning about how best to pack equipment for such travel. In the end we managed to get everything into carry on luggage (with the exception of the bo staffs which fortunately we were able to send with another family who offered to take a whole pile of them). We wanted to make sure that all of her gear and uniforms would arrive as not having them (even for a day or two) would mean being unable to compete. Anyway in the end the hurdles were dealt with, the pandemic numbers were looking much better and everything was ready.
We drove to Montreal and flew from there to Orlando. Elizabeth sat with teammate Daria and had a grand old time on the flight. Upon arrival it was very obvious we weren't in Ottawa anymore as it was very warm despite being evening. Elizabeth was extremely excited to see palm trees for the first time in person. In the morning Elizabeth was registered and weighed in. That evening after team photos the team had the first of two sparring seminars with Robbie Lavoie (multiple time world champion). Monday was forms and weapons eliminations. Elizabeth moved forward to the finals in all 5 of her divisions and even placed 1st in hard style forms which kind of blew everyone's minds as she normally does worst in this division as it is her first and the nerves are still an issue at that point. She also beat her longtime arch-rival Athena who has fairly consistently beat her for years. Throughout the competition there were great moments as the team Canada members cheered each other on and shared words of encouragement with those who didn't make it to the finals.
During the competition Master John was in such a good mood and so pleased with how the team was doing that he decided to buy a bunch of the kids new weapons. Elizabeth was presented with a shiny new bo after her creative weapons division and desperately wanted to use it for the finals but mean coach daddy said no way not wanting to mess up her timing on any of the fancier tricks. It probably would have been fine but it didn't seem like a risk worth taking. Regardless it was a super nice gesture on the part of Master John.
The next day was sparring eliminations and Elizabeth failed to advance to the gold medal match but did earn a bronze medal position. In the afternoon everyone got to hang out at the pool, enjoy the glorious weather and relax. Many of the team Canada kids swam, threw a football around and generally had a fabulous time together. It was really nice to see them making friends with their teammates from other parts of the country whom they had previously only really seen as competitors.
Wednesday was cheering day for Elizabeth as she didn't have any divisions of her own but instead got to support her teammates. A couple of the other 11-12 girls from team Canada talked Elizabeth into joining them to register as a team for the team point fighting division the next day. Daddy may or may not have had concerns over her doing this as it would mean 6 divisions the next day. The sparring would be first thus meaning if she got injured in the morning she might not be able to compete in her 5 finals that afternoon. In the end though he kept his mouth shut and trusted in her abilities and training. The girls also talked Elizabeth into asking to try continuous team fighting. Master John told her "Elizabeth, you are a brave girl, but not this year."
Thursday was the team fight. Elizabeth lost her match but escaped injury and overall the girls managed to get the gold medal and be crowned world champions. We also had our covid test (needed to get back into Canada) and then after the medal ceremony for the team fighting Elizabeth was straight into the finals for forms and weapons. She didn't quite nail her hard style form and slipped to silver, but came back strong to keep silver position in classical forms. Daddy then slipped out to get the results of the covid test since there was no line and a short break before traditional weapons. Of course the internet connection died and it took longer than it should have to get the results and Daddy missed Elizabeth's traditional weapons final. Elizabeth said it was just as well as she messed up one move and then had to improvise the middle. Despite this she still maintained her third place. She then stepped it up for creative weapons finishing 2nd and ended the day with her extreme routine in which she scored 3rd. The extreme routine may not have gotten her a first place finish but it was definitely a huge crowd favourite with a roar of cheers after her amazing flip at the end. One judge did score it as first place. At this point her social media manager was a blubbering wreck and was just as glad to be wearing a mask and glasses huddled over his phone hidden away in the crowd.
Friday was the individual fighting finals in the morning (more cheering on of teammates and picking up her bronze for sparring). When Elizabeth went to show Master John how she had done overall he was so pleased that he asked for a photo and then explained to the other head coaches that Elizabeth had done almost all of her training during the pandemic online and how proud he was of her incredible progress. In the evening it was the grand championships where the winners of each of the adult divisions all face off against each other for a few grand champion titles and cash prizes. While the level of competition throughout the whole week had really been exceptional this was really the best of the best and the level of skill was truly impressive. Elizabeth was very inspired by all the other athletes and excited to get back in the dojo, especially now that she is allowed to try out her new bo! With the awards all handed out it was off to bed and back home very early in the morning.
It really was somewhat surreal that not only did Elizabeth actually make it to the world championships but she also made the finals in every division and then also won a medal in every division (the most on her team we believe). She worked incredibly hard to get to this level and has improved tremendously even since nationals. She was also incredibly humble about it all and when asked how her week had gone casually said "good". To say that we are proud of her might be the understatement of the century.
Many many thanks are due to all the senseis and teammates that worked with Elizabeth to help make this such a positive experience. A special shout-out is owed to Sensei Cody who spent countless hours working with Elizabeth over zoom, in the field outside and at the dojo to get her ready and of course to Master John.
You might also like
- Homeschool wk may 11-15
(0.500916)
- Homeschool wk may 4-may 8
(0.493379)
- WKC World Championships 2022
(0.493007)
- The Tree Story
(0.487205)
- Great Grandma Funeral
(0.484973)
All