November 1, 2021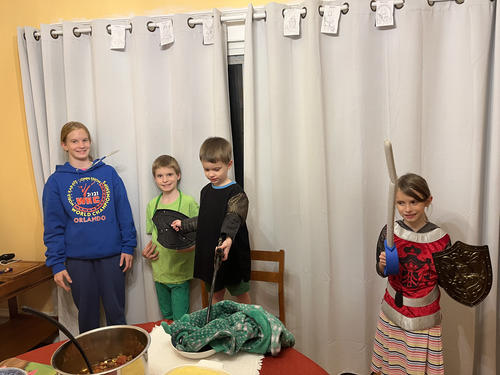 Our church opted to celebrate All Saints Sunday on Halloween which doesn't make any sense to me so we decided to celebrate All Saints on Nov 1 for once.
Elizabeth was Saint Sebastian, the patron saint of athletes. In his honour, she wore a karate hoody and made an arrow out of a pencil and feather as he is frequently depicted with arrows poking out of him.
Matthew was Saint Patrick and was thrilled to discover that Elizabeth's amazing green shamrock leggings now fit him. He wore green, and a snake. As one does. A more authentic portrayal would have worked in some more bishop-like attire, but given it was the day after Halloween AND a piano/violin day to boot that was clearly not happening.
Amelia was Saint Joan of Arc, because she wanted to wear armour and wave around a sword.
Michael was Saint George, because the elephant costume was too big. Brendan suggested we could allow an animal costume on the grounds that he would be Saint Francis of Assisi's elephant, but luckily he spied Amelia's sword and decided he wanted one too. I suggested he use a stuffy as a dragon but all the dragons apparently are (nominally) Matthew's so he used his pajamas instead.
You might also like
- Piano Recital
(0.353495)
- Music Recital
(0.348637)
- All Saints and GNAG Halloween Party
(0.348174)
- Virtual All Saints Day
(0.345679)
- Virtual School: Week 21
(0.345315)
All