October 29, 2021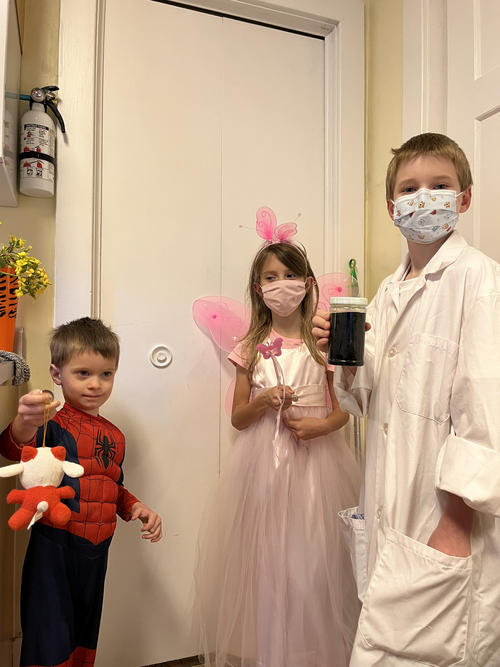 Michael had a runny nose so he couldn't go to school for the Halloween party today. He rapid tested negative and the other two were clear for school so they were very relieved to be allowed to go.
Matthew had been planning to go as a covid vaccine, bringing the covid germ stuffy with him to school. We had decided to use black electrical tape to make gradients on a white lab coat, and then were going to improvise the needle part with a cone or something. However when he laid eyes on the lab coat he decided to change costumes and went as a scientist instead. He had great fun before and after school making "potions" out of baking soda, vinegar and food colouring. I was a little annoyed when he used up half of my peppermint extract without asking first but didn't scold much, even when I discovered he'd taken the microscope to school too! At least he had the sense to leave behind the potions bottle, since it leaked...
Amelia was excited to find out she fit into the dress Elizabeth wore to Rachel's wedding. It was the perfect costume once she added her wings, headband and wand that Elizabeth chose for her from the dollar store last month.
Amelia flatly refused to bike to school - I reckoned she could put her costume on there but in the end she put it on at home and I drove them! The kids had great fun at school. There was a haunted "gymnase" and games and I don't know what all. A spooky lunch was requested and duly delivered. Matthew came home beaming because he'd "won" extra Halloween decorations in form of a very large box, and Amelia made a special pumpkin using supplies Mme Marie-Claude dropped by to deliver. Mme Marie-Claude has had a bike accident and has been off. Her arm was all bundled up in a sling but she still came by to see the kids in their costumes!
Michael got to participate in Grandir Ensemble for the first time in a long time (as usually he is at preschool when they have the online options). Auntie Mary had to go home but we consoled ourselves by having a special "restaurant" meal - McDonald's Happy Meals with donuts! Who knew that McDonald's now has donuts? The toys/book were Scooby Doo themed, which the kids found unexpectedly fascinating.
Matthew and Amelia begged to have a special sleepover in the red room, in part out of concern over catching Michael's "cold" but mostly because they liked the idea of pretending to be at their own hotel. There were fights over blankets and people wiping snot on other people but eventually they settled down and went to sleep.
You might also like
- Homeschool wk apr 20-24
(0.445904)
- 5th Birthday Party
(0.444261)
- Home
(0.441345)
- Virtual School: Week 11
(0.438104)
- London
(0.434884)
All