June 24, 2010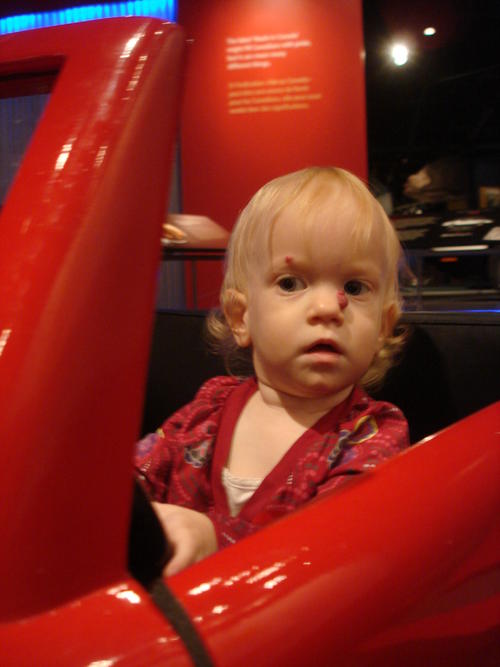 It was pouring rain today, making it a "museum" day.
The museum of Science and Technology has a special exhibit about Canadian cars, so naturally Elizabeth and I went to check it out. I was expecting it to be a little more hands-on because I found it a bit disappointing. Obviously aimed at a much older audience, the cars were all tucked well away with miles of text talking about what makes a car "Canadian". I guess I can understand that they didn't want kids climbing all over some of the classic heritage models but it would have been nice to have a few more ways to interact with the exhibit, especially given that there are several other cars in the museum that kids can climb in and out. I did find the material that was there interesting, but given the subject matter I really think this was a missed opportunity.
Elizabeth did enjoy getting into the toy car and playing around when it wasn't being swarmed by other kids, and she was mesmerized by one car that was on a rotating platform. The toy car allowed kids to take it apart and rebuild in different styles (kind of like a giant 3D puzzle), but the pieces are very heavy and awkward. We watched quite a number of kids try to change things only to give up and go on to another part of the museum. It seemed that only late elementary kids and up had the ability to take the car apart and put it back together, and even some of the high school students had trouble figuring out how to put the puzzle together.
Afterwards, we caught the tail end of the cryogenics demonstration where they pour boiling water into liquid nitrogen to create a giant cloud. Elizabeth watched carefully. As soon as she was sure it was over she grabbed the stroller, zoomed it around and took off. There was a lot of walking and running going on. We were at the museum for three hours and she hardly sat down the entire time.
In other news, we've discovered that she is stronger than the stroller brakes...
1
On June 29, 2010 at 10:56 am
Grandma H.
said:
She looks very intent...phoning Grandma?
2
On June 29, 2010 at 10:56 pm
Marie Smith
said:
Crazy life going on here but it looks like Elizabeth is growing great and y'all having fun! Glad I was able to pop in and peek for a moment!
You might also like:
-
Social Distancing: Day 3
-
Virtual school: Week 4
-
Chateau Laurier
-
Logan Hall
-
123 Petits Pas