June 25, 2010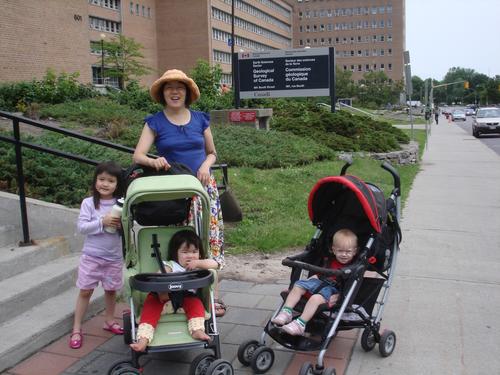 Elizabeth and I are ever so slowly working our way through *all* of the museums in the Ottawa area (it's my New Year's resolution!).
Next on my list was Logan Hall, the NR Can Geological Survey of Canada's display of some of the rocks, minerals, fossils, meteorites and ores in their collection. Logan Hall is free to visit and since it is located across from Dow's Lake we decided to walk. Elizabeth would have liked to walk too but settled for riding in her stroller. I don't think Elizabeth is ready to walk along Carling! Auntie Yukiko, Erika and Maria joined us for our adventure.
I remember visiting Logan Hall as a high school student with my mom, and if my memory is sound they've really improved things in the last decade. Back then I remember badly lit and everything feeling very makeshift. Today, Logan Hall is basically a large room filled with glass cases containing rocks, minerals, fossils, meteorites and ores. It's completely unsupervised and obviously doesn't get a lot of visitors. When we were there we had the entire place to ourselves which was quite nice.
A large chunk of the Canadian Shield is embedded in the floor near the entrance, which the kids really enjoyed crawling on. Sir William Logan (the founder of the Geological Survey of Canada) is sitting on the floor in front of his tent working on writing down what he learned about that day. I hasten to add that it was a giant doll version of Sir William Logan, not Sir William Logan himself. All around the room there were pictures and little biographies of famous geologists. This one is famous for travelling a mindboggling distance across Labrador by foot (I can't remember the exact distance but it was tens of thousands of km). That one wrote a children's book about geology. Erika was surprised to learn that the first geologists didn't travel by train, plane or car.
There was a giant meteor resting on the floor at the back of the room. If I understood the card correctly, it was the largest meteor ever recovered in Canada. Yukiko and I felt it must be very dense to be as heavy as it claimed! Actually the meteor section was pretty interesting to me but the kids were ready to move to the other side of the room to see the shiny rocks long before I could read even a fraction of the material.
I'm not sure Erika even really understood my explanation of what a meteor is, either. While trying to explain, I realized two things:
the idea of burning rocks falling from the sky is actually kind of frightening.
I don't know that much about meteors.
Auntie Mary: "This rock fell from the sky, Erika."
Erika: "Why?"
Auntie Mary: "..."
At one end there is a giant railway cart and a mural showing the mouth of a gold mining operation. We took a couple of the pieces of rock down to show Erika where gold might come from. She was interested but obviously couldn't see how a chunk of rock would become gold. Apparently the video kiosk showed how to pan for gold but it was out of service. Based on the description online, I had hoped that the panning for gold was an interactive, hands-on exhibit. Such an exhibit would have grabbed Erika's attention for sure!
Although the exhibits were mostly aimed at an older audience, Erika was quite interested in the birthstone exhibit. It helped that we could connect almost every month to a family member. She was especially happy to see her own birthstone!
My end conclusion is that Logan Hall makes a good diversion for kids of all ages, especially if you are already in the area. Most kids would be more engaged by the Museum of Nature (it has the bulk of the Geological Survey of Canada collection), but if you are really interested in rocks it's a good place to find out a bit more. I'd say that Logan Hall is primarily aimed at upper elementary, high school and adult audiences. We completely ignored the architecture, but the Geological Survey building itself is billed as a geological exhibit. I may have to go back to see!
1
On June 30, 2010 at 10:33 am
Grandpa H
said:
Very cool - I worked for a year across the street but never saw the rocks...



As to the "why?" - Erika is just warming you up for Elizabeth. You'd best review your geology, and every other subject :)
2
On June 30, 2010 at 10:44 pm
Marie Smith
said:
Y'all sure do have a lot to see and do in your area!
3
On July 1, 2010 at 10:09 am
Mom
said:
When we visited I remember the equipment to record earthquakes. It would not be an exhibit though, since it would be in use.
You might also like
- War museum
(0.471123)
- Healthy Girl
(0.457684)
- Cows
(0.454545)
- Doors Open Ottawa 2009 - Traffic Operations
(0.452926)
- Museum of Nature
(0.45212)
All