June 30, 2010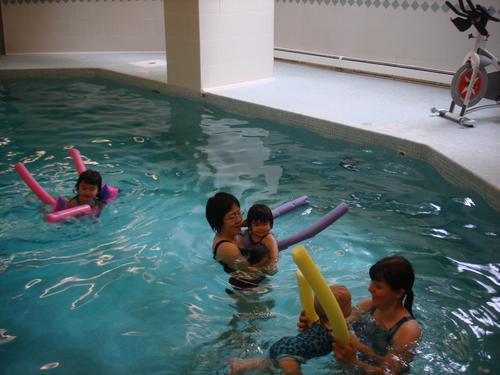 Cousin Maria went swimming for the first time today! She's a water baby just like her two cousins big sister and cousin Ed. Note: Oops - apparently I'm too used to writing about Elizabeth!. They had a grand time splashing around with pool noodles and macaronis.
Erika likes to get out of the pool and jump back in with a big splash. Elizabeth likes to do whatever Erika does. So I should have seen it coming when Elizabeth signed that she wanted to get out. Luckily I caught her on the way back in!
Mommy decided swimming time was over long before Elizabeth did. The pool is heated much more than a city pool but Elizabeth was so blue and shivery after a while that I thought it would be a good idea to go warm up. Maybe we'll have to consider a thermal swimsuit or at least a t-shirt for swimming at the cottage.
1
On July 6, 2010 at 12:59 pm
Grandpa H
said:
I think you meant just like her sister and her cousin?
2
On July 7, 2010 at 00:04 am
Marie
said:
Looks and sounds like great fun!
You might also like
- First swimming pool
(0.405455)
- Fish
(0.366102)
- Daddy and the buck bucks
(0.364726)
- Music Recital
(0.361809)
- Ollie Otter goes swimming
(0.360778)
All