December 31, 2021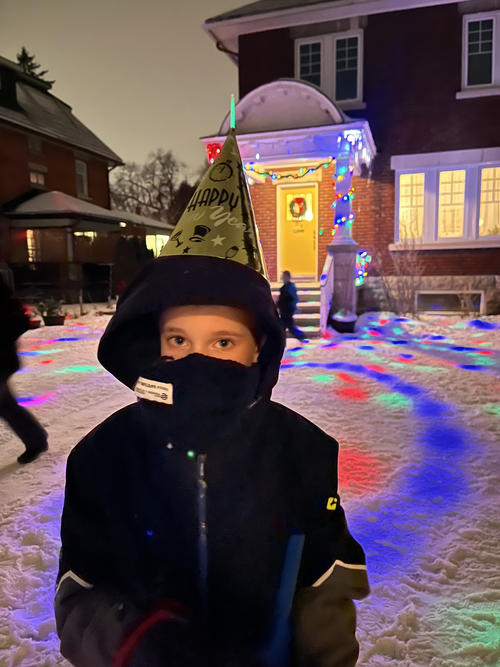 Brendan, Michael and I had a pretty chill and quiet morning without any siblings. When Elizabeth came home she asked him what he had done at his sleepover. "Missed you" was the answer.
Erika came over in the afternoon and the girls did one last karate workout of the year. Then Erika went home and after dinner (in front of fire as per tradition) the rest of us bundled up for an outdoor, masked and distanced dance party with our neighbours.
Brendan rigged our disco lights up to the porch where they looked FABULOUS on the snow. My neighbour Hannah organized hats and a pinata full of glow sticks and noise makers. Ronnie ran the music on our boom box. There was dancing and sparklers and it was generally super fun.
Our original plan to count down to 7pm got bumped to 7:30 on the theory that it's "always midnight somewhere". We put the littles to bed and watched Home Alone with Matthew and Elizabeth, before heading to bed ourselves. It goes without saying that we did not stay up to midnight.
You might also like
- Evelyn's 6th
(0.360882)
- Christmas Day 11: Gingerbread 2 and Lego
(0.360825)
- Sleepover time
(0.355056)
- Virtual School: Week 17
(0.354142)
- Elizabeth is eight
(0.353982)
All