December 29, 2021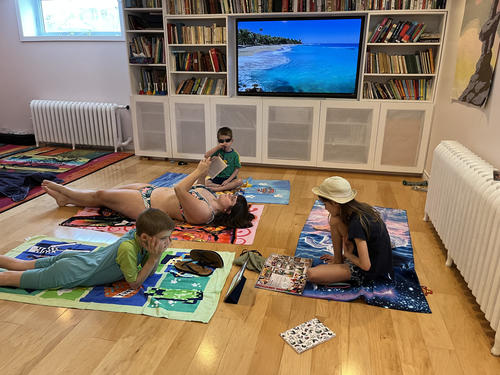 We went for a walk this morning in Pinhey Forest with Uncle Dave and Auntie Karen and crew, Grandma Audrey and Grandpa Norm, Heather, Erika and Yukiko. Brendan didn't come to make room for Maria, who ended up bailing at the last minute. Oh well!
Today's theme was beach day, inspired by beach towels for all the kids. It took me six months to find suitable towels for everyone (the minecraft one was surprisingly difficult to source!) so I was pleased that they all loved them. Brendan surprised me with a new bikini. Everyone changed into summer clothing and I naturally had to try my new swimsuit and then we set up the big screen to display the beach while the kids did some reading. We did some Beach Boys musical appreciation and built paper boats to float in the sink.
Of course we played in the sand, but not downstairs because kinetic sand does tend to make the floor rather slippery and we've decided that one slippery room in the house is quite enough. So there was a secondary beach location in the living room lol.
Erika dropped by to do some karate with Elizabeth and was quite amused to find us all in short sleeves.
You might also like
- Happy Easter
(0.383333)
- End of an Era
(0.375147)
- Mary Day
(0.373308)
- Old fashioned family day
(0.368485)
- River Oak
(0.367901)
All