December 26, 2021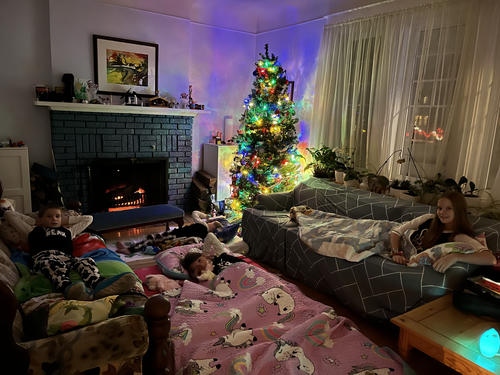 We went for a walk in the snow this morning down to the Man with Two Hats. The kids are doing a new thing where they try to pick up the biggest piece of crusty snow and see how far they can carry it. Matthew suggested a game where his siblings smashed the snow, and then got upset when no one wanted to stop smashing his snow after he tired of the game and wanted to try bringing his "space ship" home.
For the last few years we have been opening our Christmas pjs on Christmas Eve, but it's always been a bit of a hassle because with evening church we want to be wearing church clothes. Then we eat late (or we do church late after supper) and by the time we are ready to open the present the kids are expiring and definitely not in the mood for presents or cute pj photos. Also, Christmas morning we'd rather the kids didn't hang around in their pjs all day.
In discussing the problem as a family, Elizabeth suggested that we try saving the pjs for Boxing day. So we did and I think it worked out well.
Since it was Boxing day, we had Box soups for supper. As a nod to the feast of St Stephen, we ate ice cream with rocks in it.
Then the kids slept in front of the Christmas tree.
You might also like
- Crystal Gardens
(0.377219)
- Bible Verses
(0.36417)
- Victoria Day
(0.359765)
- Christmas eve service
(0.359679)
- Winterlude
(0.358788)
All