January 4, 2022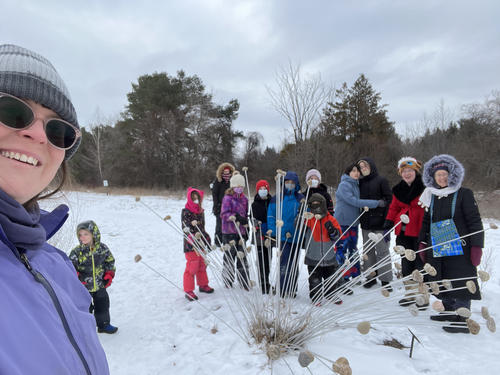 Not sure Erika realized she signed up for an early morning workout when she agreed to stay over, but at least the kids all slept in unusually late before Elizabeth dragged her out of bed and had them both training hard.
Outdoor gathering limits drop to 10 at midnight, so we realized it was now or never for one last walk/frolic in the snow with my siblings and kids before my folks head back overseas. We were still eating breakfast at quarter to ten(!) when we settled on checking out the Fletcher Gardens artwork near the arboretum. Originally we were going to walk, but Michael's cough gets very bad in the cold so we decided it would be better to drive and limit his outdoor exposure.
After our walk, it was time to use the gingerbread dough I'd saved for Erika and Maria. We had originally hoped to have Erika and Maria over to make gingerbread, but they were in isolation. The kids all enjoyed round 2 very much. I experimented with some stained glass cookies and was very pleased with how they turned out.
After the girls went home, the kids opened presents and discovered it was Lego day! We don't really *need* any more Lego, but somehow we keep acquiring more and everyone except Mommy seems to really like it. Don't get me wrong, Lego is awesome and baby elephant Lego is irresistible, but I do feel like we might be getting close to having more than enough...
You might also like
- Family Day
(0.393023)
- Garden
(0.389016)
- Erika and Maria
(0.388946)
- Boxing Day
(0.385511)
- Strike Day
(0.384439)
All