December 15, 2021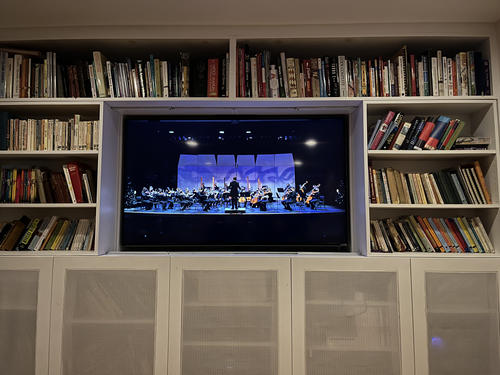 Elizabeth auditioned for her high school's junior orchestra this fall. She practiced quite hard, thought the audition went very well and then heard nothing. After a while, the start date for the orchestra was approaching, so she assumed that she didn't get in.
I encouraged (nagged?) her to email and find out for sure. She sent an email but still nothing. Elizabeth didn't really have time to practice because she was focused on Worlds and she did not want parental assistance so I let it go.
Meanwhile there were a few other issues with the music program. For instance, she missed the entire first month of music classes and it didn't matter at all. When she got back, she was learning about half notes and quarter notes and playing easier pieces than the ones Matthew is getting. But "Mom, please don't write the teacher. It's kind of nice to have a class that I don't have to work in." This was surprising because the teacher had assured me in meet the teacher interviews that more advanced students left the class to work on more advanced material.
Secondly, they had told us that students at her school had the option to take private lessons during school hours. This was something the kids did at their previous school and it worked really well. But the teacher recommended to us only works out of Kanata, on weeknights, during black belt karate class. She also wanted to know whether Elizabeth was willing to commit to an hour of practice every day (and that would be a no)
Anyway, I left it a bit longer until finally the teacher wrote an email encouraging the class to audition for the orchestra "it's never too late" and reminding us that we could take private violin lessons at school the same day that Elizabeth came home saying that last year's seventh graders didn't get to use their bows in class until February. I snapped and wrote the teacher.
I was perfectly polite, and didn't address the orchestra snub at all, aside from saying that Elizabeth had been discouraged by the complete lack of response.
Almost immediately, Elizabeth was placed with another advanced kid to play duets instead of the completely basic stuff the rest of the class was doing, she was assigned to a teacher who offers in school classes and she was invited to join the orchestra. Apparently she had had a great audition and there was some kind of error. Although annoyed by my interference, Elizabeth has since admitted that she's glad I did.
As she joined the orchestra very late, she was very stressed that she was not ready to play in a concert. In fact, she told us she wasn't going to do the concert at all since they had told her that she could choose to start in January instead. Then all of a sudden she came home one day and said she "had" to skip school to do a rehearsal. And she "had" to go buy suitable concert clothing.
The day before the concert she was so nervous she had trouble sleeping and told me she wasn't going to do the concert at all. Then she was only going to play one out of the three pieces because she would otherwise "mess up too much". It was all very confusing, especially because at one point she thought they were getting bussed to Dominion Chalmers for the concert and then back again. "You'll have to pick me up, but I'm not sure when. Or where. And you have to buy a ticket. But you can't actually come." With some difficulty I was able to figure out the relevant information and we bought tickets. Anyone who knows Elizabeth will not be surprised that she played all her pieces and she was fine.
We were quite impressed with the quality of the concert and the experience they made for the kids despite many limitations. There was free pizza! They gave them all flowers! Elizabeth says it was the longest she's ever stayed at school (I had to drop Elizabeth off at school by 8:30am and I didn't pick her up until after 9pm) but she had an amazing time and she is looking forward to the next concert.
You might also like
- Homeschool wk may 11-15
(0.475762)
- École LaGlace
(0.469404)
- Music Day
(0.467626)
- Snow, NAC, GNAG Halloween, dinner
(0.467232)
- Virtual school: Week 4
(0.467085)
All