October 8, 2021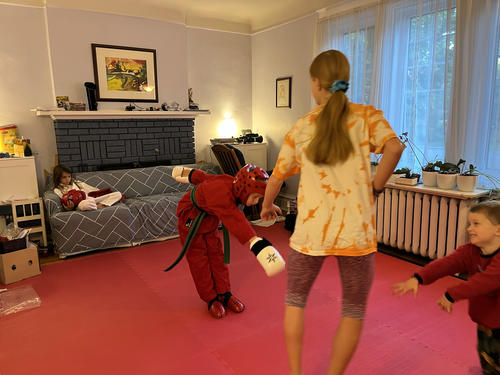 We weren't comfortable sending Matthew and Amelia back to school while the outbreak was still ongoing, so they stayed home this week. They've been playing "sparring" games with Elizabeth, which mostly consist of various small children attacking Elizabeth while she fends them off.
Today Matthew biked school to participate in the Terry Fox run his class was doing outdoors. His classmates gave him a rousing welcome when they saw him and he enjoyed the outing very much indeed. Amelia came with me to drop him off, then we went to fetch Michael from preschool and went back to get Matthew. Amelia was a bit tired after all that biking!
You might also like
- Teacher Thank yous
(0.36129)
- Spring is here!
(0.330629)
- Summer school week 6
(0.330017)
- Ecole LaNeige
(0.326531)
- Spring
(0.326165)
All