July 1, 2010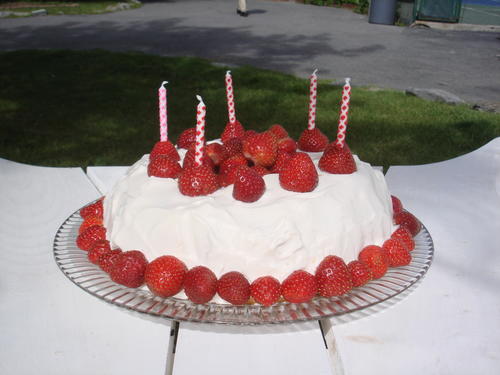 I share Canada's birthday, and I think it's just marvellous that the whole country takes the time to celebrate my birthday with me. I'm especially fond of the fireworks. This year the queen came to visit too, although we had such a busy schedule that we didn't actually manage to lay eyes on her. Instead, Brendan, Elizabeth and I had a quiet brunch. We discovered that Elizabeth likes bacon - it's the only meat she'll eat so far.
Then my friend Mike took us sailing! Uncle Dave and Auntie Karen came for the first time, and my cousin Heather and her friend came too. Auntie Janice had to work at the Aviation museum. Uncle Chris and Auntie Yukiko were in Stratford, and we didn't think we could handle so many small children at once given the level of experience in our crew so Grandma and Grandpa J and Erika and Maria stayed shoreside.
There was a lot of wind and pretty choppy waves so I was very happy we'd decided against having all the babies on board! It was so choppy that a couple of crew members felt decidedly queasy, although to be fair to Daddy staying below for extended periods with rough motion *can* have that effect! We participated in the Canada Day fun race and came second this year.
Elizabeth actually stayed below during most of the sail, only coming out towards the end when the wind had subsided somewhat.
After the race we enjoyed the beautiful day at back at the club with Grandma and Grandpa J and Erika and Maria coming by to bring us some light refreshments. The kids all enjoyed chasing each other around the grounds and especially playing in the playground. In case it wasn't already obvious Elizabeth loves playgrounds and pretty much the only way we managed to walk past it on the way in without a tantrum was by promising her that she could play on it after the race. She made sure that we didn't forget...
We then headed home for the tail end of a block party and then straight off to Uncle Dave and Auntie Karen's place to watch the fireworks. They have the fortune of living on the 11th floor with a reasonably unrestricted view of Parliment Hill and have been so kind as to let us come and watch from their place for years. We've found this especially useful with Elizabeth as we don't have to deal with crowds and are far enough away that the noise isn't an issue either.
All in all a very nice and relaxing way to mark the passage of the years!
1
On July 9, 2010 at 04:33 pm
Grandpa H
said:
Great! Sorry we couldn't be there... You got a couple of excellent shots of your brother on board!
You might also like
- Happy Easter!
(0.423398)
- Social Distancing: Day 3
(0.422735)
- Snow, NAC, GNAG Halloween, dinner
(0.420925)
- A shower and the Great Glebe Garage Sale!
(0.420866)
- Mary Day
(0.41988)
All