March 5, 2022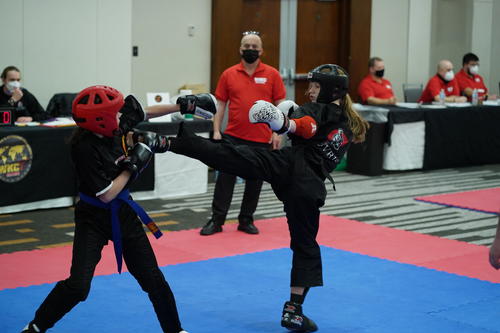 First in-person tournament since worlds. Felt a bit strange after such a long break but was nice to see some familiar faces and to get to compete in sparring. Elizabeth and Erika got to attend a few seminars with some big names in karate and picked up some nice tips. Elizabeth came away with 2 golds, 3 silver and 1 bronze. Gold in extreme and creative weapons. Silver in individual point sparring, traditional forms and traditional weapons. Bronze in team point sparring.
As the competition is still a bit on the small side Elizabeth got to compete against Caleb for extreme weapons and despite muttering about how she didn't stand a chance she ended up beating him. She also tried team fighting again (fighting up an age bracket with an ex-Douvris student who had moved to Calgary as her teammate).
Erika didn't place but has clearly improved a lot and didn't look totally out of place like she did the time she accidentally competed against the black belts.
The girls both enjoyed the opportunity to cheer on their teammates.
You might also like
- WKC Nationals
(0.380446)
- Inhouse Tournament
(0.376159)
- Burlington
(0.375991)
- WKC Worlds
(0.373563)
- WKC World Championships 2022
(0.35757)
All