April 9, 2022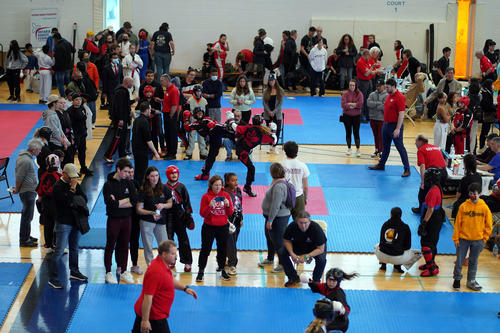 Karate season is in full swing now with the WKC provincial qualifiers happening this weekend. Elizabeth and Erika both went this year. Daddy, Elizabeth, Erika and Yukiko all drove down to stay with Muriel the night before and then headed off bright and early to the competition in the morning.
They decided to do this one as a no parents in the competition area (not that many of the parents listened to this guidance...). This annoyed daddy as he would have brought a different lens for the camera if he had known this in advance. Anyway it all worked out and Erika was able to manage the music and fetching of weapons for Elizabeth as they were not competing at the same time.
Elizabeth was using a new traditional bo as she had just outgrown her old one and had not had a chance to really practice with the new one so her traditional weapons score likely suffered a bit as a result.
Overall she still did amazingly well with medals in all her divisions. Gold in extreme and creative weapons. Silver in hard style and classical forms as well as in sparring. She very nearly pulled off the gold in sparring but lost her second fight by two points. Probably her best two fights ever. To round things out she got a bronze in traditional weapons. As the top 8 qualify for nationals she will be advancing in all six divisions.
Erika failed to advance in hard style forms but when the judges were deliberating who to cut for classical Elizabeth and Master John conspired to send the whole group of 10 through and the judges agreed. So Erika will also be competing at nationals.
The girls are also planning to compete in team forms at nationals which should be fun but sadly had no qualifier division at provincials to practice in. Now the girls have much practicing to do to prepare for nationals in May.
You might also like
- WKC Provincials
(0.46789)
- WKC Nationals
(0.448795)
- WKC virtual world championships
(0.441574)
- WKC Nationals
(0.440476)
- Burlington
(0.430526)
All