May 21, 2022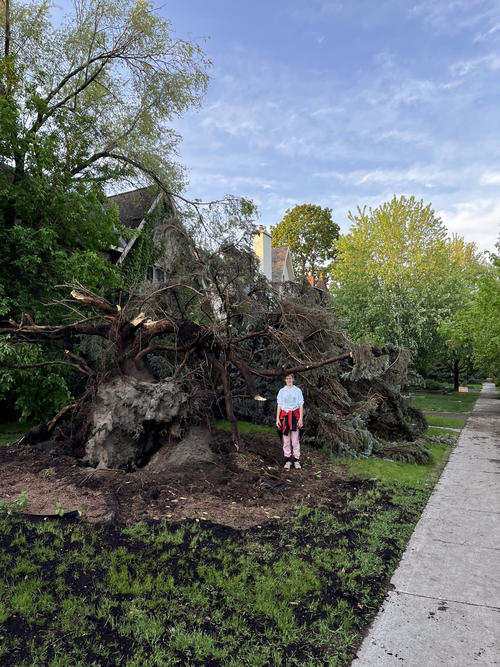 While Mommy and Daddy were off at the tournament with Elizabeth we got an alert on our phones about a thunderstorm. This seemed somewhat odd as they don't normally issue emergency alerts for such things. As we were safely inside a massive building we ignored it and just hoped that the flickering lights wouldn't go out entirely in the middle of someone getting judged.
Meanwhile back home Grandma saw the sky go "blacker than I have ever seen it before" and took the kids down to the basement where they waited for the storm to pass. The lights flickered a bit and went out completely but other than that and some serious rain they were none the wiser to what was going on.
On our way home from the tournament there were police directing traffic along our intended route so we detoured up a different street. We got to McDonald's (post tournament treat) to find that roughly 1/2 the city was there. Then on the way up our street we saw that a huge evergreen had blown right over (luckily missing the houses). We started looking at some news and found that trees had been toppled all over Ontario and Quebec with Ottawa being especially badly hit. Later reports said that winds of 190kph were recorded in Ottawa. Roughly half the city was without power and the damage was said to be worse than the ice storm. Since our power was fine we lent out our generator to various friends and family as well as freezing water for people to add to their fridges and freezers and having various people over to use our laundry facilities.
As we toured around the city we found all kinds of mess left behind including at Home Depot where there storm had tossed a massive tent like structure which had been sheltering their plants onto cars in the parking lot. Given the already super short supply of vehicles these days all the tree flattened and otherwise damaged cars are not going to improve the situation.
Six days later there are still many without power despite power crews coming in from other provinces and the US to help out with the restoration efforts.
You might also like
- Whirlwind trip
(0.41371)
- The Big Clock
(0.412821)
- Doors Open: Robert O. Pickard Environmental Centre
(0.410798)
- Family Day
(0.410089)
- Nationals
(0.408076)
All