July 10, 2022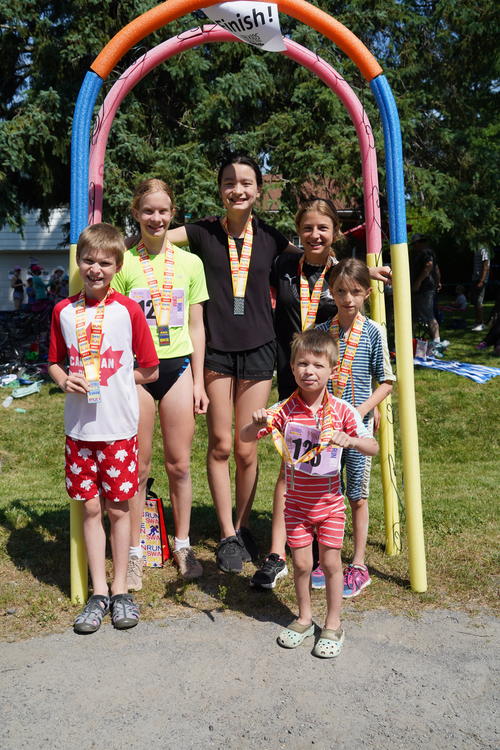 Dianne and David were once again our hosts for the triathlon. Having done this a few times they practically have it down to a science.
Delphine, Erika and Elizabeth started out. Erika and Elizabeth found the 14-15 group too easy last year (and anyway Erika is now 16!) so they decided to compete in the "youth" category with a swim of 350m (50 laps in the host pool), 10km bike ride and a 3.5km run. Delphine did the 14-15 year old group, which had a shorter swim of 300m (43 laps). The girls all finished in 1h 16m as they opted to run together. Delphine ended up doing something in between both categories as she did the longer run.
Matthew competed in the 8-9 category of 75m swim (11 laps), 3 km bike and 1 km run. He finished in 35 minutes.
Amelia competed in the 6-7 category of 25m swim (4 laps), 1.5km bike and 500m run. She finished in 22 minutes.
Michael competed in the 3-5 category with a 20m "swim" (3 laps), 500 bike and 100m run. He finished in 12 minutes.
It was very challenging managing six racers and I regretted not enlisting more help! Delphine had a difficult time at the beginning as we fired a ton of rapid fire English at her and she ended up in tears of frustration when she wasn't following what was happening at all. It was a good learning moment - we needed to slow down (not always easy in the chaos of RAAAAACE), give clear instructions and then make sure that the instructions were understood. I felt really bad but I think it was good that it happened as I was much more careful to check back with her during the rest of her visit. I think the older girls all ended up having a good time. Elizabeth smoked Erika in the pool so she was very happy about that (Erika normally beats her). Elizabeth reckoned she could have done the same distance again and wasn't at all tired (!) Erika said she thought the distance was about right for her.
Matthew and Lizza from next door were paired up again and seemed to have fun together. Amelia swam with "a stranger" but she was on the course with Charlotte and Evelyn. Evelyn had a very fast swim - wow has her swimming improved! I was busy with Michael when Amelia was getting out of the pool so she managed her own transition from pool to bike. (In hindsight, this was a mistake.)
Michael really struggled with the swimming and I mostly dragged him along from the side of the pool after letting him putter around for a while. Then I got him ready for biking, but just as I was about to set off with him Amelia arrived back from biking in great distress. So I sent my four year old off on the bike with instructions to turn around at the marker. I confess I have no idea whether he did so properly and pretty much missed the rest of his race.
Back to Amelia: apparently one of the other racers was feeling too competitive and ran Amelia right off the road. Since it was gravel, she fell, getting a bit of road rash and hitting her head. Her helmet did not help as she had unfortunately not put it on correctly. Amelia was quite indignant as the kid in question not only didn't apologize but raced off despite Amelia yelling at her to come back. Elizabeth was also pretty outraged when she heard the story and wanted to go and tell the other kid off, but by then we were well on the way to camp..
Anyway, so there I was trying to figure out where my racers all were. I was not sure if Amelia needed medical attention or not, but my mommy radar was pinging. Luckily, Auntie Janice came to my rescue at this point. Amelia really wanted to finish the triathlon, so she and Janice ran together. Then Amelia collapsed. It was pretty obvious that she wasn't feeling right and it turned out she had just received concussion four. Auntie Janice treated her for shock, got her some juice and hot chocolate (I think?), got her warmed up and then took her home where Amelia promptly declared that she was going to throw up. Just as I was headed out the door with Elizabeth.
Poor Amelia. At least we know how to treat concussions. There was MUCH discussion/texts about whether to go hang out at the ER but in the end Janice decided to just observe her for a while and then have us follow concussion protocols. I did talk to her doctor the next day.
We were super grateful for Janice's help with Amelia while I was busy driving Elizabeth to camp. I was especially grateful for the loan of her car so that we had a vehicle at home in case we decided the ER was necessary.
Despite the commotion, everyone declared they had a wonderful time - even Amelia - and they all are really hoping we get to do another triathlon next year. Many thanks to Dianne and David for all their hard work, and to all the volunteers who helped them.
You might also like
- TriKids Triathlon 2017
(0.498102)
- Back to (virtual) school
(0.474638)
- Virtual school: Week 2
(0.471989)
- Mary and Andrea visit
(0.466538)
- Its a girl
(0.464528)
All