July 13, 2010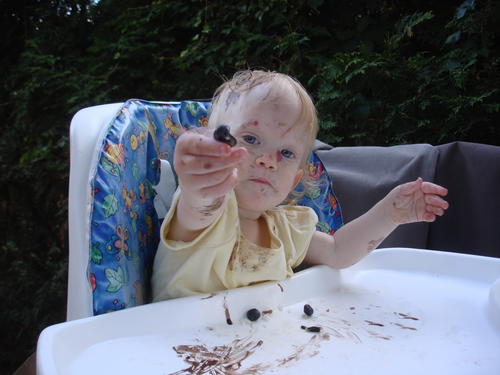 Sometimes Elizabeth tells us "Done", but we don't agree. She's taken to clasping her hands on her head to show extra emphasis.
She seems to think that if she repeats it often enough, we just might let her out of the highchair and run around WITH her cone. Somehow we don't think so, no matter how much ice cream she puts in her hair...
1
On July 16, 2010 at 05:35 pm
Grandma H.
said:
Called really getting into your food. Looks like you've taken to eating outside. Do you hose her down, too?
2
On July 17, 2010 at 06:27 pm
Grandpa H
said:
She definitely needs hosing down... I can hardly wait... ;)
You might also like
- Running
(0.318052)
- Soon you'll get to 30
(0.292683)
- Skating season is over
(0.287958)
- Little Climber
(0.28754)
- What's yours is mine and what's mine is yours
(0.286089)
All