September 16, 2022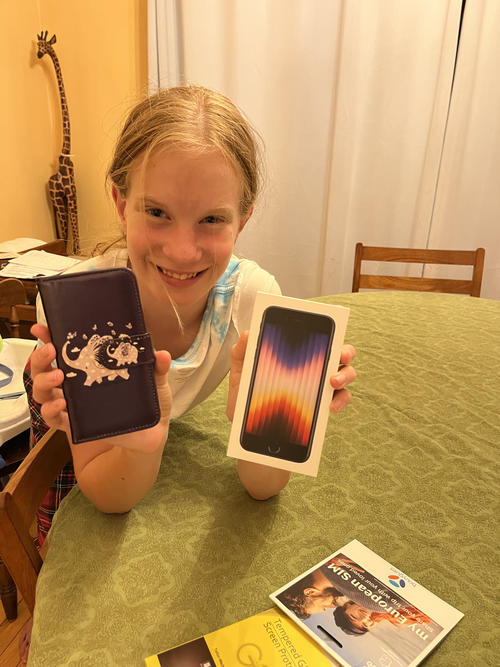 It's the question parents ask themselves these days: When is the right age to allow kids their own phone? Elizabeth's friends slowly all got phones one by one until she claimed to be the "last" holdout. This turned out to not be quite true, but it is certainly true that her grade 7 teachers all expected the kids to have access to a phone in order to do certain things and even Matthew's grade 4 teacher has a "use of cellphones in the classroom" policy. Having a cellphone is becoming more common at younger and younger ages.
Elizabeth has had an iPod for a while, kind of a cellphone analogue but without the ability to make phone calls or text when off wifi. I also liked that some social media apps didn't work on the iPod and was sad when they discontinued the iPod as we wanted to take the same approach with Matthew.
Philosophically, I also feel that there is some value to learning to navigate without a constant connection back to the mother (and father) ship.
As things turned out though, not having a data plan hasn't really bothered Elizabeth at all. She connects to the wifi at school and out and about and can text when she wants. Instead, it bothered her parents. Sometimes she'd go out for recess and forget to reconnect to wifi when she came back in. Then she'd be unreachable for hours. (I know, the horror!) So I was leaning towards getting her a phone with a data plan. However, our standard reply to "when can I get a phone?" had for some years been "When you can afford the data plan!".
Along came this idea of France. Sending our barely a teen to Europe with no independent method of communication struck us as unwise. Then... Elizabeth was invited to take paid employment (!) All of a sudden she could in fact pay for her own data plan.
Everything came together. Or close. We had wanted to give her the actual phone as a reward for her second degree black belt, and even checked with the dojo as to whether this might be happening this year. Unfortunately in the end this part didn't happen, but since she should have had it this year - pandemic and other snafus aside - we decided now was the time.
She was pretty happy.
You might also like
- Orchestre
(0.433778)
- About the boy
(0.409434)
- Michael's birthday
(0.40804)
- Dovercourt
(0.407932)
- Virtual school: Week 4
(0.407439)
All