October 2, 2022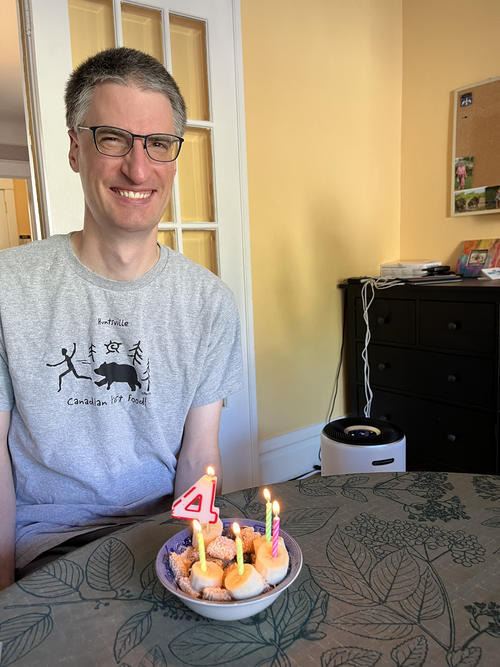 It was Brendan's birthday! Since we couldn't gather with Xander as planned last weekend, Brendan graciously agreed to share his birthday party with his oldest nephew. Xander is now 1/4 of Brendan's age!
Xander made Brendan a hilarious birthday card that was much chuckled over. Everyone worked really hard on their cards in their own unique styles. Michael went into kindergarten with absolutely zero interest in writing but managed something recognizable all on his own!
Brendan took Elizabeth to karate in the morning while the other kids and I biked to church. We failed to factor in the time required to get the bikes out of the garage, as Brendan had figured we were done with them and put them away for the winter. So we were late getting to church. We left immediately after the service. On the way home we stopped at the store to buy some cupcakes for the party, some milk for breakfast and bread for lunches. Unfortunately in my haste to get back to the house we failed to properly secure the entire load and a loaf of bread didn't make it home. I hope someone found it and ate it, rather than it going to waste.
Uncle Chris came and picked up Matthew, while Grandma Margaret gave the rest of us a ride to Half Moon Bay Park. Brendan, Yukiko, Erika and Elizabeth meanwhile went from karate on Bank street to karate in Barrhaven for the very last training session before Worlds! Grandma and I had an adventure, somehow missing our turn and driving well into Kanata before realizing we ought to have arrived and demanding the GPS back from the kids in the back who had absconded with the mapping device.
Anyway, eventually we arrived and we all enjoyed the snacks Auntie Karen brought while chatting about many things and playing on the various planets that decorate this park. Then it was time for cake and more cake.
When we came home Brendan sent me for a walk with the neighbour (and puppy). We finished off the day with lasagna and black forest cake with cherries by special request.
You might also like
- End of an Era
(0.420668)
- Party Day
(0.412121)
- Spartan Race
(0.410749)
- Derecho
(0.404155)
- Virtual Piano Recital
(0.403061)
All